February 3, 2023
Legendary Telugu Director K Viswanath Passes away at 92
Legendary Telugu Director K Viswanath Passes away at 92: One of the iconic director of Indian cinema K Viswanath passes away in Hyderabad at the the age of 92.
Born Kasinadhuni Viswanath on 19 February 1930 in  Guntur district, Andhra Pradesh, He made his entry into film direction at Annapurna Pictures under Adurthi Subba Rao and K. Ramnoth.
K. Viswanath started his film career as an audiographer and in sixty years, he has directed 53 feature films in a variety of genres, including films based on performing arts, visual arts, and aesthetics.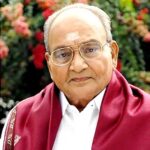 Some of his notable films include Chelleli Kapuram, Kalam Marindi, Sarada, O Seeta Katha Jeevana Jyothi, Siri Siri Muvva, Sankarabharanam, Saptapadi, Sagara Sangamamm, Swathi Muthyam, Sruthilayalu, Swarnakamalam, Sutradharulu, Aapadbhandhuvudu, Swati Kiranam, Subha Sankalpam, Swarabhishekam, Sargam, Kaamchor, Shubh Kaamna, Eeshwar and Dhanwaan
He is recipient of five National Film Awards, seven state Nandi Awards, ten Filmfare Awards South, and a Filmfare Award in Hindi. He was honored with the "Prize of the Public" at the "Besançon Film Festival of France" in 1981. In 1992, he received the Andhra Pradesh state Raghupathi Venkaiah Award, and the civilian honor Padma Shri for his contribution to the field of arts. In 2017, he was conferred with the Dadasaheb Phalke Award, the highest award in Indian cinema.
Comments
comments