June 11, 2018
Sole Geluvendu Baalali Song Meaning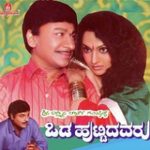 Sole Geluvendu Baalali Song Meaning: We posted the lyrics of the famous kannada song Sole Geluvendu Baalali. This song is  from the 1994 Kannada movie Odahuttidavaru, directed by Dorai – Bhagawan. Odahuttidavaru features Rajkumar, Ambareesh, Madhavi, Srishanti, Vajramuni, K. S. Ashwath, Balakrishna, Umashree and others.
The film was the last work of the acclaimed lyricist Vijaya Narasimha. Sangeetha is the music label of this movie. This song was composed by Upendra Kumar with lyrics penned by Geethapriya. Sole Geluvendu Baalali was rendered by Rajkumar.
Sukanya. K from Kerala commented on this song lyrics as given below
Hi, Namaskara from Kerala. Recently I got to watch the Movie "Odahuttidavaru" of RajKumar sir … the first Kannada movie i watched ever .. and i was searching for the Lyrics and meaning of the Songs "Sole Gelucevnthu Baalali" and "Janakana Maatha". I am very Happy to See the Lyrics here. even though i dint get the Actual meaning of the songs.. i am very happy with Lyrics Thank you so much for posting the Lyrics
Sukanya. K Form Thiruvalla, (Pathanamthitta Dist) Kerala.
For this Mr. Raj CV has replied by writing the meaning of this song in English so that non Kannada speaking Music lovers like Sukanya. K can understand the lyrics and grasp the full meaning of the song. We thank both Sukanya. K madam and Mr. Raj CV for this exchange of information using our platform.
Lets look at the comment of Raj

when you learn failure also a kind of winning, it means when you knowingly loose the chance to win something, to see happiness of the opponent .

All kind of happiness, crying, ruin success, failure everything is gods gift to learn the life in every manner. so don't think about some people may say your good and some will say you are bad.

when we make oil from sandal wood it don't show any kind of pain, and a candle give light by burning itself it don't cry. the patience in side you is equal to this earths patience the kindnesses of your hear make my life so beautiful
the woman who is working hardly for his family's happiness she never think selfishly and she never care about bad comment of others because she is perfect and true by heart i believe you i love you so much you made my life beautiful thank you very much being with me.

this is nice song and we don't say RajKumar sir we call him Annavru it means big brother badhe bhai among whom he is popularly adulated as Nata Saarvabhouma (Emperor of Actors), Bangarada Manushya (Golden Man), Vara Nata (Gifted Actor), Vishwa Manava (Universal Man) and Rajanna (Respected Elder Brother, Raj)
https://en.wikipedia.org/wiki/Rajkumar_(actor)
watch these movies he performed as teacher, god, former -agriculture, leader, james bond, layer, police, thief, leader all kind
https://www.google.co.in/search?ei=KSQeW-kHxLatAd2YpcgC…
Comments
comments