February 13, 2023
Tuesdays with Morrie by Mitch Albom – Book Summary
Tuesdays with Morrie by Mitch Albom – Book Summary: 'Tuesdays with Morrie' is a memoir by Mitch Albom about his relationship with his former sociology professor, Morrie Schwartz. Albom reconnects with Morrie after seeing him on a news program discussing his thoughts on life and death, and begins visiting him every Tuesday. Over the course of these visits, Albom learns valuable lessons about life, love, and the human experience from his mentor.
The book is a touching and heartwarming story about the bond between a student and his teacher, and the lessons that can be learned from someone who is facing the end of their life. Morrie imparts wisdom on a range of topics, including the importance of family, the meaning of work, and the need to find happiness in life. Albom learns to let go of the materialistic values he has been taught and embraces a more meaningful and fulfilling way of life.
One of the strengths of the book is its simplicity and clarity, making it accessible to readers of all ages. The conversations between Albom and Morrie are moving and thought-provoking, and the lessons learned are relevant to anyone seeking to live a more meaningful life.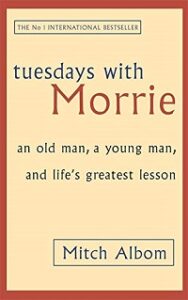 Another strength of the book is the way it deals with the themes of life and death, exploring what it means to live a good life and how to face the inevitability of death. The book is both a celebration of life and a meditation on its end, making it a poignant and uplifting read.
The bond between Albom and Morrie is at the heart of the book and is one of its greatest strengths. Their conversations are filled with warmth, humor, and wisdom, and the reader is left with a deep appreciation for the mentor-student relationship.
In conclusion, "Tuesdays with Morrie" is a must-read for anyone looking to gain a new perspective on life and the human experience. It is a heartwarming, thought-provoking, and inspiring book that will leave a lasting impression on the reader.
About the Author
Mitch Albom is an American author, journalist, and screenwriter. He is best known for his memoir "Tuesdays with Morrie".
"Tuesdays with Morrie" was a bestseller and has been widely acclaimed for its simplicity, accessibility, and its ability to impart valuable life lessons. The book has been made into a stage play, a television movie, and has been translated into over 40 languages.
In addition to "Tuesdays with Morrie," Albom has also written several other books, including "The Five People You Meet in Heaven," "For One More Day," and "Have a Little Faith." Albom is known for his ability to write about complex themes such as life and death in a way that is simple, accessible, and touching.
Overall, Albom is a highly regarded author who has made a significant impact on the literary world with his works. His writing is filled with wisdom, humor, and inspiration, and has touched the hearts of millions of readers around the world.
Comments
comments