November 12, 2021
Falguni Nayar Richest Self-made Woman | Nykaa IPO
Falguni Nayar Richest Self-made Woman | Nykaa IPO: Beauty and fashion retailer company Nykaa is currently making lot of news not just for its product but for its IPO.  As the beauty start-up Nykaa listed on the stock market on Wednesday, its founder and CEO Falguni Nair has joined not only the list of richest women in the country but also in  world.
Nykaa is an Indian e-commerce company, It sells beauty, wellness and fashion products across websites, mobile apps and 76 offline stores.
IPO [Initial public offering] is when a company offers its shares to the public for the first time. With  Nykaa's IPO Falguni Nair company Nayka made many investors rich. The listing of Nykaa's IPO took place on Wednesday. Shares of Nykaa registered a rise of nearly 90 per cent post the listing.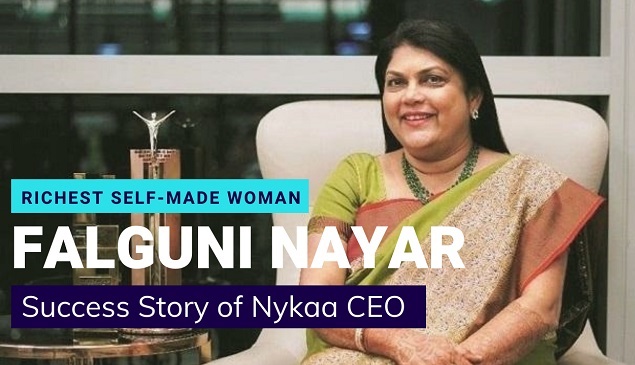 Falguni holds nearly half the stake in Nykaa. With the listing of Nykaa in the stock market, Nair's assets have reached more than $ 6 billion. With the listing of Nyka in the stock market, Falguni Nair has become the richest self-made woman in the country.
This information has been obtained from data from the Bloomberg Billionaire Index. Falguni Nair, an investment banker, for many years helped founders of Indian companies organize road shows in Europe and the US to raise money.
The stock market has an age-old practice of conducting road shows in Europe and the US to entice investors to invest in IPOs. In 2012, she founded the startup Nykaa and today it is one of the top e-commerce sites for beauty products in the country.
Falguni Nair is 50 years old. Bollywood stars endorse and invest in Nykaa's products. After this IPO, the net worth of Falguni Nair has increased six times to reach about 6.5 billion dollars. Now Falguni Nayar is one of two self-made female, Indian billionaires and andshe is  in the list of top 20 richest people of India.
Nair, who did his MBA from IIM Ahmedabad in 1983-85 batch, worked in AF Ferguson & Company from 1985 to 1993. After this, he worked in Kotak Mahindra Bank for about 20 years. She quit the job of Kotak Mahindra Bank Limited to start Nykaa.
FSN E-Commerce Ventures is the parent company of Nykaa. Nykaa is the third biggest IPO of the year after Zomato and Sona Comstar. The company's market cap reached Rs 1 lakh crore on the listing of Nykaa itself. Nykaa started its first physical store in the year 2014. As of 31 August 2021, FSN E-commerce has 80 physical stores in 40 cities across the country.
In 2015, the company expanded from online-only to an omnichannel model and began selling products apart from beauty. In 2020, it retails over 2,000 brands and 200,000 products across its platforms.
Comments
comments
About The Author
lyricsraaga
Lyricsraaga is a portal designed to provide the lyrics of Indian movie songs across various languages like Tamil, Kannada, Telugu, Malayalam and Hindi.