August 2, 2021
Chudaramma Sathulala Lyrics | Annamayya Devotional Songs | Annamacharya
Chudaramma Sathulala Lyrics | Annamayya Devotional Songs | Annamacharya: Chudaramma Sathulala is a famous Telugu Devotional Song or Keerthana composed by Sri Tallapaka Annamacharya or Annamayya.
Tallapaka Annamacharya [Annamayya] was a 15th century Hindu saint and composer. He was the ardent devotee of Lord Vishnu. He is believed to have been the creator avatar of Nandaka, the sword of Vishnu. He is considered as the 'Grandfather of Telugu song-writing'.
He had composed lots of Keertanas in praise of Lord Venkateswara Swami of Tirupathi. The musical form of the Keertana songs that he composed, have strongly influenced the structure of Carnatic music compositions. He is widely regarded as the Andhra Pada kavita Pitamaha.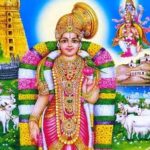 Chudaramma Sathulala Song Lyrics
Composer: Sri Tallapaka Annamacharya [Annamayya]
Language: Telugu
Singers: Various
Genre: Carnatic Keerthana
About: Aandaal / Godha Devi
Check out 'Chudaramma Sathulala Song Lyrics' here..
Chudaramma Sathulala Sobaana Paadaramma..
Chudaramma Sathulala Sobaana Paadaramma
Kudunnadhi Pathi Choodi Kudutha Nanchari
Chudaramma Sathulala Sobaana Paadaramma
Kudunnadhi Pathi Choodi Kudutha Nanchari
Sri Maha Lakshmiyata Singaaralakemarudu
Kaamuni Thalliyata Chakkadanalake Marudu
Sri Maha Lakshmiyata Singaaralakemarudu
Kaamuni Thalliyata Chakkadanalake Marudu
Somuni Thobuttuvata Sompukalalake Marudu
Somuni Thobuttuvata Sompukalalake Marudu
Komalaangi Ee Choodi Kudutha Naanchari
Choodaramma Sathulala Sobaana Paadaramma
Koodunnadhi Pathi Choodi Kudutha Naanchari
Kalashaabdhi Koothurata Gambhiralake Marudu
Talapaloka Mathayata Daya Mariyemarudu
Kalashaabdhi Koothurata Gambhiralake Marudu
Talapaloka Mathayata Daya Mariyemarudu
Jalajanivaasiniyata Challadaname Marudu
Jalajanivaasiniyata Challadaname Marudu
Koladimeera I Chudi Kudutha Nanchari
Choodaramma Sathulala Sobaana Paadaramma
Koodunnadhi Pathi Choodi Kudutha Nanchari
Amaravandithayata Atti Mahimaye Marudu
Amruthamu Chuttamata Anandalake Marudu
Amaravandithayata Atti Mahimaye Marudu
Amruthamu Chuttamata Anandalake Marudu
Thamito Srivenkateshu Thaane Vacchi Pendlaade
Thamito Srivenkateshu Thaane Vacchi Pendlaade
Kaumera Vayassu Ee Choodi Kudutha Nanchari
Chudaramma Sathulala Sobaana Paadaramma
Koodunnadhi Pathi Choodi Kudutha Nanchari
Comments
comments