April 27, 2021
Hanuman Chalisa Lyrics | Tulsidas | Hanuman Jayanti Devotional Songs
Hanuman Chalisa Lyrics | Tulsidas | Hanuman Jayanti Devotional Songs: Hanuman Chalisa is a famous devotional hymn about Lord Hanuman composed by Tulsidas in the Awadhi language.
Lord Hanuman or Anjaneya is a Hindu god. He is an ardent devotee of Lord Rama and one of the Chiranjivis. Hanuman is one of the central characters of the Hindu epic Ramayana and He is also mentioned in several other texts, such as the epic Mahabharata and the various Puranas.
Tulsidas also known as Goswami Tulsidas, was a popular saint and poet, known for his devotion to Lord Rama. He authored several popular works in Sanskrit and Awadhi languages. The epic Ramcharitmanas, a retelling of the Sanskrit Ramayana based on Rama's life is one of the best known works of Sri Tulasidas.
In Hanuman Chalisa The word 'Chalisa' means 'Forty' in Hindi, as the Hanuman Chalisa has 40 verses excluding the couplets at the beginning and at the end.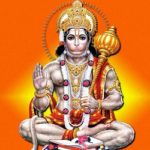 Song: Hanuman Chalisa Lyrics
Written by: Tulsidas
Genre: Devotional
Language: Awadhi
Lord: Hanuman
Singers: Various
Check out the Hanuman Chalisa Lyrics here..
Shree Guru Charan Saroj Raj
Nija Manu Mukur Sudhaari
Barnau Raghuvar Bimal Jasu
Jo Daayaku Phal Chaari
Buddhi Heen Tanu Jaanike
Sumirow Pavan Kumaar
Bal Buddhi Bidya Dehu Mohi
Harahu Kalesh Bikaar
Jai Hanumaan Jnaana Guna Saagar
Jai Kapisa Tihun Loka Ujaagar
Raam Doota Atulita Bala Dhaamaa
Anjani Putra Pavansuta Naamaa
Mahabeer Bikrama Bajrangi
Kumathi Nivaar Sumathi Ke Sangi
Kanchan Baran Biraaj Subesaa
Kaanan Kundal Kunchith Kesaa
Haath Bajra Aur Dhvajaa Biraajai
Kaandhe Moonj Janeu Saajai
Shankar Suvan Kesari Nandan
Tej Prataap Mahaa Jag Bandan
Vidyaavaan Guni Ati Chaatur
Raam Kaaj Karibe Ko Aatur
Prabhu Charitra Sunibe Ko Rasiyaa
Raam Lakhan Seetha Man Basiyaa
Sukshma Roop Dhari Siyahin Dikhaavaa
Bikata Roop Dhari Lanka Jaraavaa
Bheema Roop Dhari Asura Sanhaare
Ramchandra Ke Kaaj Savaare
Laaya Sajivan Lakhana Jiyaaye
Shree Raghuvir Harshi Ura Laaye
Raghupathi Kinhi Bahuta Baraai
Tuma Mama Priya Bharatahi Sama Bhai
Sahasa Badan Tumharo Jasa Gaavein
Asa Kahi Shripati Kanth Lagaavein
Sankaadika Brahmaadi Munisaa
Naarad Saarad Sahith Ahisaa
Jama Kubera Digpaal Jahaan Te
Kabi Kobida Kahin Sake Kanhaa Te
Tum Upakaar Sughrivahi Keenhaa
Raam Milai Raaja Pada Deenha
Tumharo Mantra Bibhishan Maanaa
Lankeshvara Bhaye Saba Jaga Jaanaa
Jug Sahastra Jojana Para Bhaanu
Leelyo Taahi Madhura Phala Jaanu
Prabhu Mudrikaa Meli Mukha Maaheen
Jaladhi Laanghi Gaye Acharaja Naaheen
Durgam Kaaj Jagat Ke Jete
Sugam Anugraha Tumhare Te Te
Raam Duwaare Tuma Rakhavaare
Hota Na Aagyaa Binu Paisaare
Sab Sukh Lahen Tumhaari Sharnaa
Tum Rakchak Kaahu Ko Dara Naa
Aapana Tej Samhaaro Aapei
Theeno Loka Haank Te Kaanpai
Bhooth Pisaach Nikat Nahi Aavei
Mahaabira Jab Naam Sunaavei
Naasei Rog Hare Sab Peeraa
Japath Nirantara Hanumata Beeraa
Sankat Te Hanumaana Churaavei
Mana Kram Bachan Dhyaan Jo Laavei
Sab Par Raam Tapsvee Raaja
Tina Ke Kaaj Sakal Tum Saajaa
Aur Manorath Jo Koi Laave
Soi Amitha Jeevan Phal Paave
Chaaro Jug Partaap Tumhaaraa
Hai Parsiddha Jagat Ujiyaaraa
Saadhu Sant Ke Tum Rakhavaare
Asura Nikandan Raam Dulaare
Ashta Siddhi Nau Nidhi Ke Daataa
Asa Bar Dina Jaanki Maataa
Raam Rasaayan Tumhare Paasaa
Sadaa Raho Raghupati Ke Daasaa
Tumhare Bhajan Raam Ko Paavei
Janam Janam Ke Dukh Bisaraavei
Anta Kaal Raghubar Pura Jaie
Jahaan Janma Hari Bhakta Kahaai
Aur Devatha Chitt Na Dharai
Hanumat Sei Sarva Sukh Karai
Sankata Kate Mitey Sab Peeraa
Jo Sumirei Hanumat Balabeeraa
Jai Jai Jai Hanumaan Gosaain
Kripa Karahu Guru Deva Ki Nain
Jo Sata Baar Paath Kar Koi
Chutai Bandi Maha Sukh Hoi
Jo Yah Padhe Hanumaan Chalisa
Hoya Siddhi Saakhi Gourisa
Tulsidas Sadaa Hari Chera
Keejai Naath Hriday Mah Dera
Pavana Tanaya Sankat Haran
Mangal Moorathi Roop
Ram Lakhan Seetha Sahit
Hridaya Basahu Sura Bhoop
Comments
comments