February 14, 2023
Pashunam Patim Papanasham Paresham Lyrics | Vedasara Shiva Stotram
Pashunam Patim Papanasham Paresham Lyrics | Vedasara Shiva Stotram: Pashunam Patim Papanasham Paresham or Vedasara Shiva Stotram is a hymn or verses in Sanskrit language, was composed by Sri Adi Shankaracharya, in praise of Lord Shiva.
Lord Shiva is one of the main deities of Hinduism. Shiva is known as "The Destroyer" within the Trimurti, the Hindu trinity that includes Brahma and Vishnu. Goddess Parvati is Lord Shiva's wife. Lord Ganesha and Lord Murugan are his children.
Maha Shivaratri is one of the major Hindu festival celebrated annually in honor of Lord Shiva. It is believed that Shiva performs the heavenly dance [Shiva Thandavam] on this night. This festival also marks a remembrance of 'overcoming darkness and ignorance' in life and the world.
Sri Adi Shankaracharya was an Indian philosopher and theologian who consolidated the doctrine of Advaita Vedanta. Shankaracharya traveled across the India to propagate his philosophy through discourses and debates with other thinkers.
Over 300 texts are attributed to Sri Adi Shankaracharya, including Bhasyas [Commentaries], Prakararana Grantha [Philosophical Expositions] and Stotras [Poetry].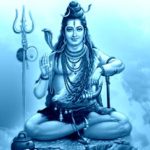 Pashunam Patim Papanasham Paresham Lyrics
Genre: Devotional / Bhajan
God: Lord Shiva
Singer: Various
Lyrics: Traditional
Language: Sanskrit
Check out 'Pashunam Patim Papanasham Paresham Lyrics' here..
Pashunam Patim Papanasham Paresham
Gajendrasya Kritimvasanam Varenayam
Jata Jutamadhye Sphurat Gangavarim
Mahadevam Ekam Smarami Smararim
Mahesham Suresham Surarathinasham
Vibhum Vishwanatham Vibhutyanga Bhoosham
Virupaksham Indvarka Vahni Trinetram
Sadanandam Eede Prabhu Pancha Vaktram
Girisham Ganesham Gale Neelavarnam
Gavendradhi Roodham Gunatitarupam
Bhavam Bhasvaram Bhasmana Bhooshitangam
Bhavani Kalatram Bhaje Panchavakram
Shivakanta Shambho Shashangardha Moule
Mahesanashulin Jatajutadharin
Tvameka Jagadvyapako Vishwaroopa
Praseeda Praseeda Prabho Poorna Roopa
Parathmanamadhyam Jagat Beejamekam
Niriham Nirakaramonkara Vandhyam
Yatho Jayathe Palyathe Yena Vishvam
Thameesam Bhaje Leeyate Yatra Vishwam
Na Bhoomir Na Chapo Na Vahnir Na Vayur
Ma Cha Akashamaste Na Tandra Na Nidra
Na Greeshmo Na Sheetam Na Desho Na Vesho
Na Yasya Asti Murthim Trimurthi Tameede
Ajam Sashvatam Karanam Karananam
Shivam Kevalam Bhasakam Bhasakanam
Turiyam Tama Paramadyanta Heenam
Prapadhye Param Pavanam Dvaita Heenam
Namaste Namaste Vibho Vishwamurte
Namaste Namaste Chidananda Murte
Namaste Namaste Tapo Yoga Gamya
Namaste Namaste Shruti Gyana Gamya
Comments
comments