September 1, 2020
Pillaiyar Suzhi Poattu Seyal Edhuvum Thodangu Lyrics | Sirkazhi Govindarajan
Pillaiyar Suzhi Poattu Seyal Edhuvum Thodangu Lyrics | Sirkazhi Govindarajan: Pillaiyar Suzhi Poattu Seyal Edhuvum Thodangu is famous Tamil devotional song about Lord Vinayakar, rendered by singer Sirkazhi Govindarajan.
Lord Vinayaka also known as Ganesha, Ganapati, and other names is one of the most worshiped deities in the Hindu religion. He is the song of Lord Shiva and Goddess Parvati. He is the elder brother of Lord Subramanya.
Ganesha Chaturthi is the festival celebrated to honor Lord Vinayaka. This festival will be celebrated every year in the month of late August or early September. Ganesha festival begins with people bringing in idols of Ganesha, symbolizing the god's visit. The festival culminates on the day of Ananta Chaturdashi, when the idols are immersed in the most convenient body of water.
Sirkazhi Govindarajan is unargubly one of the greatest singers of Tamil film and devotional music world. His unique voice and his ability to sing in both high and low pitch effortlessly, clarity of words while singing the lyrics are his greatest strengths. His training in Carnatic music is the base for his extraordinary vocal skills.
Sirkazhi Govindarajan made huge contribution in Tamil devotional songs and Carnatic music scenes also. He had acted in few Tamil films also notably Kandhan Karunai [1967], Agathiyar [1972], Rajaraja Cholan [1973] and others.
On the occasion of this Ganesha Chaturthi, Listen to this Vinayagar Tamil devotional song and get the blessing of Lord Ganesha. Team LyricsRaaga wish you all a Happy Ganesha Chaturthi.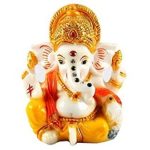 Pillaiyar Suzhi Poattu Seyal Lyrics
Singer: Sirkazhi Govindarajan
Lord: Vinayaka
Genre: Devotional
Language: Tamil
Lyrics by: N/A
Check out the lyrics here..
Oor Aanai Kandrai Umayaal Thirumaganai
Poraanai Karpagathai Peninaal
Vaaraadha Buddhi Varum
Viddhai Varum
Puthhira Sampathu Varum
Sakthi Tharum
Sithhi Tharum Thaan
Suzhi Poattu Seyal Edhuvum Thodangu
Pillaiyar Suzhi Poattu Seyal Edhuvum Thodangu
Adhan Thunaiyaale Sugam Koodum Thodarndhu
Adhan Thunaiyaale Sugam Koodum Thodarndhu
Pillaiyar Suzhi Poattu Seyal Edhuvum Thodangu
Azhiyaadha Perunchelvam Avane
Silaiyaanandha Koothanin Magane
Silaiyaanandha Koothanin Magane
Pillaiyar Suzhi Pottu Seyal Edhuvum Thodangu
Vazhiyindri Velanavan Thigaithaan
Kura Valliaval Kai Pudikka Thudiththaan
Marandhu Vitta Annanaye Ninaithaan
Marandhu Vitta Annanaye Ninaithaan
Maru Kanathnile Magizhchiyile Thigaiththaan
Maru Kanathnile Magizhchiyile Thigaiththaan
Pillaiyar Suzhi Pottu Seyal Edhuvum Thodangu
Kaettadhellaam Kodukka Varum Pillai
Avan Keerthi Solla Vaarthaigale Illai
Aattam Enna Paattam Enna Anaithum
Avan Naattam Indri Evvaru Nadakkum
Avan Naattam Indri Evvaru Nadakkum
Pillaiyar Suzhi Poattu Seyal Edhuvum Thodangu
Thumbikkai Nambikkai Kodukkum
Varum Thuyar Yaavum Mun Nindru Thadukkum
Anjelendroru Paadham Edukkum
Avan Asaindhu Vara Arul Manigal Olikkum
Avan Asaindhu Vara Arul Manigal Olikkum
Pillaiyar Suzhi Poattu Seyal Edhuvum Thodangu
Athan Thunaiyaale Sugam Koodum Thodarndhu
Athan Thunaiyaale Sugam Koodum Thodarndhu
Pillaiyar Suzhi Poattu Seyal Edhuvum Thodangu
Comments
comments