July 13, 2018
Dore [1994] Kannada Songs Lyrics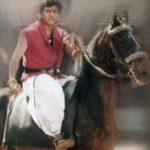 Dore [1994] Kannada Songs Lyrics: Dore is a Kannada movie, directed by Shivamani. The film was produced by M. Chandrashekar under the banner of Sri Nimishamba Productions. The film was released in 1994 starring Shiva Rajkumar, Hema Panchamukhi, Bharathi, Srinivasa Murthy, Dheerendra Gopal, Sudheer, Girija Lokesh, Ashalatha, Dingri Nagaraj, Vasudeva Rao, Kashi, Shankar Ashwath and others.
Aananda Audio is the music label of this movie. All songs of this film were composed by Hamsalekha with lyrics penned by Hamsalekha. Famous playback singers S. P. Balasubrahmanyam, K. S. Chithra, S. Janaki, Dr. Rajkumar, K. J. Yesudas and Mano have lent their voices to the songs.
Check out the lyrics here..
Halli Haadu Thandanaa Lyrics
Movie: Dore [1994]
Music Label: Aananda Audio
Music: Hamsalekha
Lyrics: Hamsalekha
Singers: S. P. Balasubrahmanyam, K. S. Chithra
Raamanna Ninge Kosambari Lyrics
Movie: Dore [1994]
Music Label: Aananda Audio
Music: Hamsalekha
Lyrics: Hamsalekha
Singers: S. P. Balasubrahmanyam
Ago Bandanu Nenapige Lyrics
Movie: Dore [1994]
Music Label: Aananda Audio
Music: Hamsalekha
Lyrics: Hamsalekha
Singers: K. J. Yesudas, K. S. Chithra
Raitha Raitha Lyrics
Movie: Dore [1994]
Music Label: Aananda Audio
Music: Hamsalekha
Lyrics: Hamsalekha
Singers: Dr. Rajkumar
Thai Thai Binkada Singari Lyrics
Movie: Dore [1994]
Music Label: Aananda Audio
Music: Hamsalekha
Lyrics: Hamsalekha
Singers: Manu, S. Janaki
Hunnimeya Deepavide Lyrics
Movie: Dore [1994]
Music Label: Aananda Audio
Music: Hamsalekha
Lyrics: Hamsalekha
Singers: S. P. Balasubrahmanyam
Laaliya Thumba Lyrics
Movie: Dore [1994]
Music Label: Aananda Audio
Music: Hamsalekha
Lyrics: Hamsalekha
Singers: S. P. Balasubrahmanyam, K. S. Chithra
Comments
comments