November 8, 2017
Swathi Kannada Song Lyrics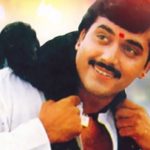 Swathi Kannada Song Lyrics: Swathi is a 1994 Kannada movie, directed by Shivamani and produced by S. Shailendra Babu. Swathi features Sudharani, Shashikumar, Vajramuni, Avinash, Umashree, Shivaram, Tennis Krishna, B. V. Radha, Sundar Krishna Urs, Bank Janardhan and others. Akash Audio is the music label of this movie.
Songs were composed by M. M. Keeravani with lyrics penned by R. N. Jayagopal, Sriranga and Shyamsundar Kulkarni. Songs rendered by S. P. Balasubrahmanyam and K. S. Chithra.
Check out the lyrics here..
Kuhu Kuhu Haaduva Lyrics
Movie: Swathi [1994]
Music Label: Akash Audio
Music: M. M. Keeravani
Lyrics: R. N. Jayagopal
Singer: K. S. Chithra
Panjarada O Giniye Lyrics
Movie: Swathi [1994]
Music Label: Akash Audio
Music: M. M. Keeravani
Lyrics: R. N. Jayagopal
Singer: K. S. Chithra
Panjarada O Giliye Lyrics
Movie: Swathi [1994]
Music Label: Akash Audio
Music: M. M. Keeravani
Lyrics: R. N. Jayagopal
Singers: S. P. Balasubrahmanyam, K. S. Chithra
Parade Yetthi Panneera Chelli Lyrics
Movie: Swathi [1994]
Music Label: Akash Audio
Music: M. M. Keeravani
Lyrics: Sriranga
Singers: S. P. Balasubrahmanyam, K. S. Chithra
Suriva Maleyali Lyrics
Movie: Swathi [1994]
Music Label: Akash Audio
Music: M. M. Keeravani
Lyrics: Shyamsundar Kulkarni
Singers: S. P. Balasubrahmanyam, K. S. Chithra
Comments
comments