November 2, 2017
Aa Moda Baanalli Thelaadutha Lyrics
Aa Moda Baanalli Thelaadutha Lyrics: Aa Moda Baanalli is a song from the 1985 Kannada movie Dhruva Thare, directed by M. S. Rajashekar and produced by S. A. Govindraj, V. Bharathwaj under the banner Nirupama Art Combines. The movie is based on the novel Aparanji written by Vijay Sasanur.
Dhruva Thare features Rajkumar, Geetha, Deepa, Thoogudeepa Srinivas, Balakrishna, Shivaram, Ashwath Narayan, Shankar Bhat, Rajanand, Sadashiva Brahmavar, Honnavalli Krishna and others.
Sangeetha is the music label of this movie. This song was composed by Upendra Kumar with lyrics penned by Chi. Udaya Shankar. Aa Moda Banalli was rendered by Rajkumar, Vani Jayaram and Bangalore Latha.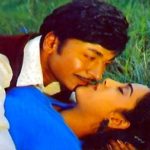 Aa Moda Baanalli Thelaadutha Lyrics
Movie: Dhruva Thare [1985]
Music Label: Sangeetha
Music: Upendra Kumar
Lyrics: Chi. Udaya Shankar
Singers: Rajkumar, Vani Jayaram, Bangalore Latha
Check out 'Aa Moda Baanalli Thelaadutha song lyrics' here..
Aa Moda Baanalli Thelaadutha
Ninagaagi Naa Thande Nodennutha
Nalla Ninna Sandeshava Nanage Helide
Aa Moda Baanalli Thelaadutha
Ninagaagi Naa Thande Nodennutha
Nalla Ninna Sandeshava Nanage Helide
Nanna Noduva Chinthe
Ninna Kaadideyanthe
Nanna Preethige Sothe
Endu Helideyanthe
Neene Nanna Praana Endu
Neenu Anda Anda Maathanindu
Nalla Helide
Aa Moda Baanalli Thelaadutha
Ninagaagi Naa Thande Nodennutha
Nalla Ninna Sandeshava Nanage Helide
Ahaa Ha Haa Ahahaha Aha Aha
Lalalaa Lalalaa Lalalaa
Aa Moda Baanalli Thelaadutha
Ninagaagi Naa Bande Nodennutha
Nalle Ninna Sandeshava Nanage Helide
Aa Moda Baanalli Thelaadutha
Ninagaagi Naa Bande Nodennutha
Nalle Ninna Sandeshava Nanage Helide
Nooru Janmavu Thanda
Namma Ee Anubandha
Sneha Preethiyu Thanda
Intha Mahadaananda
Entha Chenna Entha Chenna
Enda Ninna Maatha Chinna Endu Helide
Aa Moda Baanalli Thelaadutha
Ninagaagi Naa Thande Nodennutha
Nalla Ninna Sandeshava Nanage Helide
Ninna Notave Chenna Ninna Premave Chenna
Ninna Nenapali Chinna Nondu Bendaru Chenna
Kalaha Chenna Viraha Chenna Saniha Chenna Enda Ninna
Maathannu Helide
Aa Moda Baanalli Thelaadutha
Ninagaagi Naa Thande Nodennutha
Nalla Ninna Sandeshava Nanage Helide
Aa Moda Baanalli Thelaadutha
Ninagaagi Naa Thande Nodennutha
Nalle Ninna Sandeshava Nanage Helide
Nanage Helide Aha Hahahaa
Dhruva Thare [1985] Kannada Movie Songs List
1. Aa Moda Baanalli
Lyrics: Chi. Udaya Shankar
Singers: Rajkumar, Vani Jayaram, Bangalore Latha
2. Aa Rathiye Dharegilidante
Lyrics: Chi. Udaya Shankar
Singers: Rajkumar, Bangalore Latha
3. O Nalle Savinudiya
Lyrics: Chi. Udaya Shankar
Singers: Rajkumar, Vani Jayaram
4. Nyayavelli Adagide
Lyrics: Chi. Udaya Shankar
Singers: Rajkumar, S. Janaki
Comments
comments