November 2, 2017
Aa Rathiye Dharegilidante Lyrics
Aa Rathiye Dharegilidante Lyrics: Aa Rathiye Dharegilidante is a song from the 1985 Kannada movie Dhruva Thare, directed by M. S. Rajashekar. The movie is based on the novel Aparanji written by Vijay Sasanur. Dhruva Thare features Rajkumar, Geetha, Deepa, Thoogudeepa Srinivas, Balakrishna, Shivaram, Ashwath Narayan and others. Sangeetha is the music label of this movie. This song was composed by Upendra Kumar with lyrics penned by Chi. Udaya Shankar. Aa Rathiye Dharegilidante was rendered by Rajkumar and Bangalore Latha.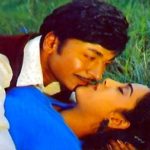 Aa Rathiye Dharegilidante Lyrics
Movie: Dhruva Thare [1985]
Music Label: Sangeetha
Music: Upendra Kumar
Lyrics: Chi. Udaya Shankar
Singers: Rajkumar, Bangalore Latha
Check out the lyrics here..
Aa Rathiye Dharegilidanthe Aa Madana Naguthiruvanthe
Kallu Mullella Balli Moggella Hoobaanavayitho Enisuthide
Aa Rathiye Dharegilidanthe Aa Madana Naguthiruvanthe
Kallu Mullella Balli Moggella Hoobaanavayitho Enisuthide
Maamara Thoogutha Chaamara Haasutha
Parimala Ellede Chelluthire
Gaganada Anchali Ranganu Chellutha
Sanjeyu Naatyava Aaduthire
Pranayada Kaala Banthu Nodi Endu Haadi
Kogileyu Naliyuthide Lalalaa Lala Lala Laa
Aa Rathiye Dharegilidanthe Aa Madana Naguthiruvanthe
Kallu Mullella Balli Moggella Hoobaanavayitho Enisuthide
Premada Bhaavake Preethiya Raagake
Mounave Geetheya Haaduthire
Sarasada Snehake Olavina Kaanike
Needalu Adharavu Araluthire
Endigu Heege Baaluvaase Thumbi Bandu
Premigalu Naliyuthire Premigalu Naliyuthire
Aa Rathiye Dharegilidanthe Aa Madana Naguthiruvanthe
Kallu Mullella Balli Moggella Hoobaanavayitho Enisuthide
Hoobaanavayitho Enisuthide Hoobaanavayitho Enisuthide
Comments
comments