August 27, 2018
Aa Vidhi Keralithe Song Lyrics | Baalida Mane
Aa Vidhi Keralithe Song Lyrics | Baalida Mane: Aa Vidhi Keralithe is a Kannada song from the movie Baalida Mane, directed by G. K. Mudduraj. The film was produced by C. Ramamurthy and M. Mahadevu under the banner Sri Ganapathi Chithralaya.
The film was released in 1997 starring Rebel Star Ambarish, Shashikumar, Vinaya Prasad, Rajesh, Vajramuni, Niveditha Jain, Doddanna, Sudheer, Girija Lokesh, Sathyapriya, Sathyabhama, Venki, Sathyajith, Basavanna, Kemparaju, Mysore Srikantu, D D Mahadevu, Jayaram, Pushpa Swamy, Akshatha, Baby, Krishna, Roopika and others. Lahari Music is the music label of this movie. This song was composed by Rajan-Nagendra with lyrics penned by Su. Rudramurthy Shastry, Shyamsundar Kulkarni. Aa Vidhi Keralithe song was rendered by Gaana Ghandarva Dr. Rajkumar.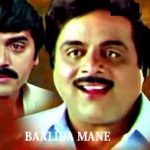 Aa Vidhi Keralithe Lyrics
Movie: Baalida Mane [1997]
Music label: Lahari Music
Music: Rajan-Nagendra
Lyrics: Su. Rudramurthy Shastry, Shyamsundar Kulkarni
Singer: Dr. Rajkumar
Check out the lyrics here..
Aa Vidhi Keralithe
Aa Aaaa Aaaaa
Aa Vidhi Keralithe Naguvu Nalivella Novayithe
Badukella Nooraaru Choooraayithe
Aa Vidhi Keralithe Naguvu Nalivella Novayithe
Badukella Nooraaru Choooraayithe
Gowravada Ganiyaagi Baalida Maneya
Gowravada Ganiyaagi Baalida Maneya
Abhimaana Beedhiyali Dhoolaayithe
Yellakku Migilaada Samsaravaada
Manethanada Maryaade Haalayithe
Bhoomiye Biridare Aasare Yenide
Devare Munidare Rakshane Yellide
Devare Munidare Rakshane Yellide
Aa Vidhi Keralithe Naguvu Nalivella Novayithe
Badukella Nooraaru Choooraayithe
Aa Vidhi Keralithe Nalivella Novayithe
Vathsalyada Seleyaada Manasugalalli
Vathsalyada Seleyaada Manasugalalli
Nooru Bage Novugala Neleyaayithe
Soujanyada Siriyada Ee Samsaaravu
Apamaanada Baleyalli Sereyaayithe
Preethige Sikkide Dweshada Kaanike
Thappanu Maadade Shiksheyu Yethake
Thappanu Maadade Shiksheyu Yethake
Aa Vidhi Keralithe Naguvu Nalivella Novayithe
Badukella Nooraaru Choooraayithe
Aa Vidhi Keralithe Nalivella Novayithe
Baalida Mane [1997] Songs Lyrics
Ninna Kandu Ee Manasu
Nagu Nagutha Bandavale
Aaha Chaliya
Thaayi Thande preethi
Aa Vidhi Keralithe
Comments
comments