May 14, 2018
Aadisidaata Besara Moodi Lyrics | Kasturi Nivasa
Aadisidaata Besara Moodi Lyrics | Kasturi Nivasa: Aadisidaata Besara Moodi is a song from the 1971 Kannada movie Kasturi Nivasa [Kasthuri Niavasa], directed by the duo Dorai-Bhagavan. The film was produced by K. C. N. Gowda under the banner Anupam Movies.
Kasturi Nivasa features Annavru Dr. Rajkumar, Rajashankar, Jayanthi, K. S. Ashwath, Aarathi, Balakrishna, Narasimharaju, Vijayasree, Shyam, Ashwathanarayana, Surekha, Baby Rani, Baby Lalita and others. The film was remade in Tamil as Avanthan Manithan (1975) featuring Chevaliar Sivaji Ganesan and in Hindi as Shandaar (1974) where Sanjeev Kumar played the lead role.
Saregama was the music label of this movie. This song was composed by G. K. Venkatesh with lyrics penned by Chi. Udaya Shankar. Aadisidaata Besara Moodi song was rendered by composer G. K. Venkatesh.
On the final day of the background score work for this film, while scoring for the climax, L. Vaidyanathan who was then the assistant to G. K. Venkatesh, felt free verse would enhance the mood and add additional depth to the situation. Immediately lyricist Chi. Udayashankar was called and made to listen to the tune on violin, he then wrote the lyrics of this emotional and heart touching meaningful lyrics.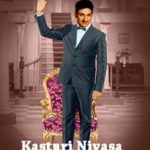 Aadisidaata Besara Moodi Lyrics
Movie: Kasturi Nivasa [1971]
Music Label: Saregama
Music: G. K. Venkatesh
Lyrics: Chi. Udaya Shankar
Singer: G. K. Venkatesh
Check out the lyrics here..
Aadisidaatha Besaramoodi Aata Mugisidaa
Soothrava Harida Bombeya Murida Mannaagisida
Aadisidaatha Besaramoodi Aata Mugisidaa
Soothrava Harida Bombeya Murida Mannaagisida
Kambanidhaare Harisalu Nanna Jeeva Ulisida
Nanna Jeeva Ulisidaa
Aadisi Nodu Beelisi Nodu Uruli Hogadu
Yaaree Barali Manasige Endu Shaanti Dorakadu..
Aadisi Nodu Beelisi Nodu Uruli Hogadu
Yaaree Barali Manasige Endu Shaanti Dorakadu
Kanniriduva Nannee Katheyu Eko Mugiyadu
Ayyo Yeko Mugiyadu
Kasturi Nivasa Songs
Aadisi Nodu Beelisi Nodu
Elle Iru Hege Iru
Aadisidaata Besara Moodi
Aadona Neenu Naanu
Nee Bandu Ninthaaga
Oh Geleya
Comments
comments