August 21, 2018
Aase Holeye Batthi Hogaithe Song Lyrics
Aase Holeye Batthi Hogaithe Song Lyrics: Aase Holeye Batthi Hogaithe is a Kannada song from the 1990 movie Panchama Veda [Panchamaveda], written and directed by P. H. Vishwanath. The film was produced by D Rajkumar, P R Prabhakar, Smt Sarojamma under the banner Sri Sathyasai Combines.
Panchama Veda features Ramesh Aravind, Sudharani, Ramakrishna, Geetha, Kashi, Krishne Gowda, Mallikarjunaiah, Buddivantha Nayari, Ramachandra Hulimavu, Vijaykumar Jitthuri, Neernalli Raju, Nagendra Shaw, Nagesh R, Soori, Ramesh Babu, Chayapathi, Ithal, Robin, Sujatha, Geethanjali, Sundaramma, Baby Aarathi, Pushpa, Bhagirathiand others.
Tharangini is the music label of this movie. This song was composed by Sangeetha Raja with lyrics written by Doddarangegowda. Aase Holeye Batthi Hogaithe song was rendered by renowned singer K. J. Yesudas.
P. H. Vishwanath is one of the renowned film director in Kannada cine industry. He made some remarkable movies. He started his film career as an assistant director to Puttanna Kanagal in the 1979 film Dharmasere. He made his directorial debut with the path breaking 1990 Kannada movie Panchama Veda . some of his most memorable work includes Panchama Veda (1990), Munjaneya Manju (1993), Srigandha (1995), Aragini (1995), Rangoli (1996), Andaman (1998) and others. He had made successful movies in combination with Ramesh Aravind and Sudharani.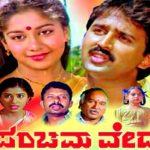 Aase Holeye Batthi Hogaithe Lyrics
Movie: Panchama Veda [1990]
Music Label: Tharangini
Music: Sangeetha Raja
Lyrics: Doddarangegowda
Singer: K. J. Yesudas
Check out the lyrics here..
Manasella Baridaagi Novalle Bendaithe
Odalalli Kichchina Benki Uridaithe
Badukella Marubhoomi Besarada Birugaali
Badukella Marubhoomi Besarada Birugaali
Preethi Hrudaya Dooraagi
Preethi Hrudaya Dooraagi
Aase Holeye Batthi Hogaithe
Sambhanda Sullaagi Hoovella Mullaaythe
Olavella Husiyaagi Haale Vishvaaythe
Maavella Bevaagi Banavella Bayalaagi
Maavella Bevaagi Banavella Bayalaagi
Preethi Hrudaya Dooraagi
Preethi Hrudaya Dooraagi
Panchama Veda Songs
Aase Holeye Ukki Haridaithe
Aase Holeye Batthi Hogaithe
Nee Thanda Preethi
Comments
comments