July 3, 2017
Alle Nillu Lyrics
Alle Nillu Lyrics: Alle Nillu is a super hit song from the 1976 Kannada film Bahaddur Gandu, directed by A. V. Sheshagiri Rao. Bahaddur Gandu features Rajkumar, Jayanthi, Aarathi,Balakrishna, Vajramuni, Dwarakish and others.
This film was was inspired from 1952 Hindi film Aan starring Dilip Kumar. Saregama is the music label of this movie. This song was composed by M. Ranga Rao with lyrics penned by Chi. Udaya Shankar. Alle Nillu was rendered by P. B. Sreenivas and S. Janaki.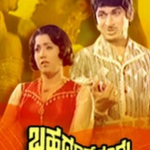 Alle Nillu Lyrics 
Album: Bahaddur Gandu [1976]
Music Label: Saregama
Music: M. Ranga Rao
Lyrics: Chi. Udaya Shankar
Singers: P. B. Sreenivas, S. Janaki
Check out the lyrics here..
Alle Nillu Nillaiyyo Chennigaraayne
Naa Balle Ella Nanna Manasu Kaddone
Alle Nillu Nillaiyyo Chennigaraayne
Naa Balle Ella Nanna Manasu Kaddavne
Kanninalle Modi Haaki
Maathinalle Bedi Haaki
Kanninalle Modi Haaki
Maathinalle Bedi Haaki
Bittoduveya Doora Nooki
Alle Nillu Nillaiyyo Chennigaraayne
Naa Balle Ella Nanna Manasu Kaddone
Doora Nillu Alle Nillu Jinke Kannaole
Bari Sulle Heli Nanna Anake Maadavle
Doora Nillu Alle Nillu Jinke Kannaole
Bari Sulle Heli Nanna Anake Maadavle
Kaatagitthiyantha Ninna Kattikondarenu Chenna
Kaatagitthiyantha Ninna Kattikondarenu Chenna
Bittoduvenu Inde Ninna
Doora Nillu Alle Nillu Jinke Kannaole
Bari Sulle Heli Nanna Anake Maadavle
Naa.. Hidimbiyaadare Bheemanu Nee Bheemanu
Naanu.. Janakiyaadare Ramanu Nee Ramanu
Aa.. Ramanu Bheemanu Ethake Illethake
Ninage Ee Shoorana Thanteyu Ethake Innethake
Maathinali Shoora Nanna Muddumaara
Balle Badivara Hedarenu Naa
Gandu Beeri Henne Chandiyanthe Neenu
Kandini Naanu Ninnannu
Kaatagitthiyantha Ninna Kattikondarenu Chenna
Bittoduvenu Inde Ninna
Doora Nillu Alle Nillu Jinke Kannaole
Bari Sulle Heli Nanna Anake Maadavle
Hey Hey Hey.. Kaalige Thodakuva Balliye Hoo Balliye
Ninage Aasare Doorada Halliye Aa Halliye
Ee.. Sakkare Gombeyu Ninnadu Nija Ninnadu
Indu Nee Akkare Thorade Baggadu Idu Badukadu
Joru Maadi Bande Sothu Hogi Ninde
Kanna Neere Thande Hennaade
Ninna Katthigintha Maathe Tumba Haritha
Nonde Novininda Ninninda
Kanninalle Nanna Selde
Branthi Inda Neenu Nonde
Nooru Aase Honde Baninde
Adake Naanu Doora Ninde
Hedari Headri Heegaade
Hedari Headri Heegaade
Ninna Maathu Saaku Nanna Manasu Kaddone
Ninna Bittu Naanilla Kelu Chennigaraayane
Ninna Maathu Saaku Nanna Manasu Kaddone
Ninna Bittu Naanilla Kelu Chennigaraayane
Bahaddur Gandu Songs
Maanavanaaguveya
Muthinantha Mathondu
Hey Ninagagiye
Alle Nillu
Gandu Endare Gandu
Save
Save
Comments
comments