March 7, 2018
Ammi Ammi Song Lyrics
Ammi Ammi Song Lyrics: Ammi Ammi is a song from the 2018 Kannada movie Preethiya Raayabhari, directed by M. M. Muthu and produced by S.R.Venkatesh under the banner Naada Kiran Pictures. Preethiya Raayabhari features Nakul Gowda, Anjana Deshpandey, Sukrutha Deshapande, Sadhu Kokila, Charan Raj, Suchendra Prasad, Vanishree, Padmaja Rao and others.
Aanand Audio is the music label of this movie. This song was composed by Arjun Janya with lyrics penned by Chethan Kumar. Ammi Ammi song was rendered by Vijay Prakash.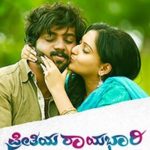 Ammi Ammi Lyrics
Movie: Preethiya Raayabhari [2018]
Music Label: Aanand Audio
Music: Arjun Janya
Lyrics: Chethan Kumar
Singer: Vijay Prakash
Check out the lyrics here..
Oho Oho Ohoo..
Oho Oho Ohoo.. Oo..
Cycle Gapinali
Heart-u Roadinali
Iavala Noduthali
Bidde Preethiyalli
Neene Nanna Costly Phone-u
Naane Ninna All Time Fan-u
Strat Love-u Poem-u
Ammi Ammi Onchooru Nodammi..
Ammi Ammi Nan Hinde Baarammi..
Cycle Gapinali Nali Nali
Heart-u Roadinali Nali Nali
Neene Neenene Thampu Kannige
Role-U Model-U Hennige
Ninna Holapene Haalu Bilupene
Chanda Nin Color …
Neenu Nakre Eduraagi Sikre
Sorgaane Kanmunde Bandhaage
Ninthru Nillagingalla
Kunthru Koorangilla
Helak Aaythilla Nange Eno Aagogide
Ammi Ammi Onchooru Nodammi..
Ammi Ammi Nan Hinde Baarammi..
Cycle Gapinali
Heart-u Roadinali
Old-U Gramaphone-U Eddu Kunthaithe
Ninna Haadanne Haadthaithe
Oora Tentalli Ninna Picturre
Kannu Muchkondru Odthaithe
Are.. Nee Hoon Andre
Nagilla Thondre
Aa Naalku Tentanne Haakthine
Yaaru Kelangilla
Eduru Nillangilla
Ninna Bitre Nange Eega Yaaru Kaantha Illa
Ammi Ammi Onchooru Nodammi..
Ammi Ammi Nan Hinde Baarammi..
Ammi Ammi Ammi
Ammi Ammi Ammi Samagamamapa
Ammi Ammi Ammi Hey.. Ammi
Preethiya Raayabhari Song Lyrics
Doora Doora
Nangu Beka Introduction
Ammi Ammi
Somebody Say
Comments
comments