October 10, 2017
Amrutha Ghalige Song Lyrics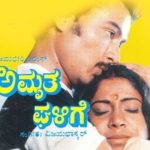 Amrutha Ghalige Song Lyrics: Amrutha Ghalige is a 1984 Kannada language film directed by Puttanna Kanagal, based on a novel named Avadhana by Dodderi Venkatagiri Rao. Amrutha Ghalige features Ramakrishna, Padmavasanthi, Sridhar, Umashree, B. K. Shankarin and others.
Songs were composed by Vijaya Bhaskar with lyrics written by Vijaya Narasimha. Songs were rendered by P. Jayachandran, S. P. Balasubramanyam and B. R. Chaya.
Check out the lyrics here..
Mayuri Natya Mayuri Lyrics
Movie: Amrutha Ghalige [1984]
Music Label: Sangeetha
Music: Vijaya Bhaskar
Lyrics: Vijaya Narasimha
Singers: S. P. Balasubramanyam, B. R. Chaya
Hindusthanavu Endu Lyrics
Movie: Amrutha Ghalige [1984]
Music Label: Sangeetha
Music: Vijaya Bhaskar
Lyrics: Vijaya Narasimha
Singer: P. Jayachandran
Hindustanavu Endu [Female] Lyrics
Movie: Amrutha Ghalige [1984]
Music Label: Sangeetha
Music: Vijaya Bhaskar
Lyrics: Vijaya Narasimha
Singer: B. R. Chaya
Parvathi Parashivana Lyrics
Movie: Amrutha Ghalige [1984]
Music Label: Sangeetha
Music: Vijaya Bhaskar
Lyrics: Vijaya Narasimha
Singers: S. P. Balasubramanyam, B. R. Chaya
Comments
comments