April 2, 2018
Andada Chandada Giniye Song Lyrics
Andada Chandada Giniye Song Lyrics: Andada Chandada Giniye is a Song from the 1983 Kannada movie Thirugu Baana [Thirugubaana], directed by K. S. R. Dass and screenplay by H V Subba Rao. The film was produced by S Sangram Singh and S Jayaraj Singh under the banner Singh Brothers. Thirugu Baana features Ambarish, Aarathi, Hema Choudary, Jayamala, Vajramuni, Dinesh, Rajanand, Master Arjun, B Hanumanthachar, K V Manjaiah, Lakshman, Indira, Mallika, Lalithamma, Shanthamma, Shantha, Hema, Sindhu, Shakthi and others.
This film was remake of the 1974 Hindi film Benaam. Sangeetha music was the music label of this movie. This song was composed by Sathyam with lyrics penned by R. N. Jayagopal. Andada Chandada Giniye was rendered by S. P. Balasubrahmanyam and P. Susheela.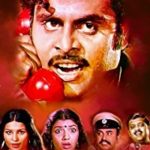 Andada Chandada Giniye Lyrics
Movie: Thirugu Baana [1983]
Music: Sathyam
Lyrics: R. N. Jayagopal
Singers: S. P. Balasubrahmanyam, P. Susheela
Music Label: Sangeetha
Check out the lyrics here..
Andada Chandada Giniye
Sihi Kannadadimpina Nudiye
Naguvina Chinnada Ganiye
Namma Balina Gandhada Gudiye
Andada Chandada Giniye
Sihi Kannadadimpina Nudiye
Naguvina Chinnada Ganiye
Namma Balina Gandhada Gudiye
Chinna Ninna Kannallinnu Kanneerethake
Thayi Thande Jeeva Neene
Daiva Thanda Bhagya Neene
Ilnod Ilnodu
Maatheya Mamatheya Hoobanadalli
Hoovina Thottila Haasihudilli
Thangaali Mellage Jogula Haade
Kangala Reppege Chumbana Neede
Thugalu Naa Ninna Malago Chinna
Kanasina Hombanna Thumbali Kanna
Usire Hasire Aldiru Nee
Thayi Thande Jeeva Neene
Daiva Thanda Bhagya Neene
Nan Chinna Nan Bangara
Nodamma Illi Nagu Magu
Chanda Maama Bangara Theraagi Barali
Tharegala Kudureya Jodiya Tharali
Nidireya Hosaloka ….
Modagala Belliya Daarigalalli
Baruthire Nee Kulithu Vaibhavadalli
Naguthire Neenaga Anandadalli
Nalive Mereve Mai Mareve
Thayi Thande Jeeva Neene
Daiva Thanda Bhagya Neene
Andada Chandada Giniye
Sihi Kannadadimpina Nudiye
Naguvina Chinnada Ganiye
Namma Balina Gandhada Gudiye
Chinna Ninna Kannallinnu Kanneerethake
Thayi Thande Jeeva Neene
Daiva Thanda Bhagya Neene
Comments
comments