July 8, 2018
Appaji [1996] Kannada Songs Lyrics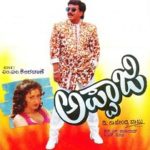 Appaji [1996] Kannada Songs Lyrics: Appaji is a Kannada movie, directed by by D. Rajendra Babu and written by K. V. Vijayendra Prasad. The film was produced by H. S. Janakiram and C. S. Manju under Surya International banner. The film was released in 1996 starring Sahasa Simha Vishnuvardhan, Aamani, Pankaj Dheer, Sharanya, Krishne Gowda, Doddanna, Brahmavar, Lakshman, Sihikahi Chandru, Keerthi, M. S. Karanth, Vijayasarathi and others.
Jhankar Music is the music label of this movie. All songs of this film were composed by M. M. Keeravani with lyrics penned by R. N. Jayagopal. Famous playback singers S. P. Balasubrahmanyam, K. S. Chithra and Mano have lent their voices to the songs. The album has got few chartbuster songs like Yene Kannadathi Nee Yaake Hingadthi and Yaava Deva Shilpi Kadedano Ninna, which are still favorite among Kannada music lovers.
Check out the lyrics here..
Yene Kannadathi Lyrics
Movie: Appaji [1996]
Music Label: Jhankar Music
Music: M. M. Keeravani
Lyrics: R. N. Jayagopal
Singer: S. P. Balasubrahmanyam
Yaava Deva Shilpi Lyrics
Movie: Appaji [1996]
Music Label: Jhankar Music
Music: M. M. Keeravani
Lyrics: R. N. Jayagopal
Singer: S. P. Balasubrahmanyam, K. S. Chithra
Baanu Yello Kaanenu Lyrics
Movie: Appaji [1996]
Music Label: Jhankar Music
Music: M. M. Keeravani
Lyrics: R. N. Jayagopal
Singer: S. P. Balasubrahmanyam, K. S. Chithra
Gharshane Gharshane Lyrics
Movie: Appaji [1996]
Music Label: Jhankar Music
Music: M. M. Keeravani
Lyrics: R. N. Jayagopal
Singer: S. P. Balasubrahmanyam
Balu Dambada Jambada Lyrics
Movie: Appaji [1996]
Music Label: Jhankar Music
Music: M. M. Keeravani
Lyrics: R. N. Jayagopal
Singers: Mano, K. S. Chithra
Comments
comments