August 27, 2017
Aralide Aralide Lyrics | Mududida Thavare Aralithu
Aralide Aralide Lyrics | Mududida Thavare Aralithu: Aralide Aralide is famous song from the 1983 Kannada movie Mududida Thavare Aralithu, directed by K. V. Jayaram. It is based on the novel of the same name by Chitralekha.
Mududida Thavare Aralithu features Ananth Nag, K. S. Ashwath, Lakshmi, Shobha, Mukhyamantri Chandru, Leelavathi, Mysore Lokesh, Musuri Krishnamurthy, Leelavathi, Adavani Lakshmidevi, Shobha, K. N. Bharathi, Manjula Hiremat, Sunanda Kadapatti, Lalitha, Rathnamala, Baby Sujatha, Master Rajesh, Prabhakar, Uma Shivakumar and others.
Aralide Aralide song lyrics were written by  Anamika and the song was composed by M. Ranga Rao. This song was was rendered by legendary playback singer S. Janaki.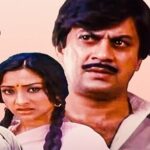 Aralide Aralide Lyrics
Movie: Mududida Thavare Aralithu [1983]
Music Label: Sangeetha
Music: M. Ranga Rao
Lyrics: Anamika
Singer: S. Janaki
Check out 'Aralide Aralide lyrics' here..
Aralide Aralide Mududida Thavare Aralide
Bayaside Bayaside Priyatamanaasare Bayaside
Hareyada Kare Saridide There
Hareyada Kare Saridide There
Kelade Ee More Baalina Dore
Shabariya Mukuthige Janakiraamanu Neenade
Kamarida Badukige Aaseya Chilumeyu Neenande
Shabariya Mukuthige Janakiraamanu Neenade
Kamarida Badukige Aaseya Chilumeyu Neenande
Mididide Mana Rasamaya Kshana
Mididide Mana Rasamaya Kshana
Preetige Sevege Baagide Charanake
Preetige Sevege Baagide Charanake
Jeeva Bhaava Neenage
Aralide Aralide Mududida Thavare Aralide
Cheluvina Bedagina Olavanu Chellide Madhuvana
Chandrana Yawwvana Berethare Jeevana Paawana
Cheluvina Bedagina Olavanu Chellide Madhuvana
Chandrana Yawwvana Berethare Jeevana Paawana
Papa Mada Mapa Nini Pama Pani
Nipama Sanipa Garinisa
Sooryana Udayake Chandiranasare
Sooryana Udayake Chandiranasare
Baara Baara Balige
Aralide Aralide Mududida Thavare Aralide
Bayaside Bayaside Priyathamanaasare Bayaside
Hareyada Kare Saridide There
Hareyada Kare Saridide There
Kelade Ee More Baalina Dore
Aralide Aralide Mududida Thavare Aralide
Mududida Thavare Aralithu [1983] Songs List
1. Aralide Aralide Mududida Thavare
Lyrics: Anamika
Singer: S. Janaki
2. Munjane Moodida Haage
Lyrics: Doddarange Gowda
Singer: S. P. Balasubrahmanyam
3. Vivaha Baalige
Lyrics: Doddarange Gowda
Singer: S. P. Balasubrahmanyam
4. Milana Kaanadu
Lyrics: Doddarange Gowda
Singer: S. P. Balasubrahmanyam
5. Uriyuthide Hoobana
Lyrics: Doddarange Gowda
Singer: S. Janaki
Comments
comments