January 18, 2018
Avale Nanna Hendthi Song Lyrics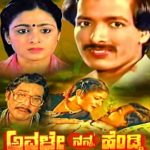 Avale Nanna Hendthi Song Lyrics: Avale Nanna Hendthi is a 1988 Kannada movie, directed by S. Umesh and K. Prabhakar, and produced by Vijay Films. Avale Nanna Hendthi features Kashinath, Bhavya, Mukhyamantri Chandru, Tara, N. S. Rao, Sihi Kahi Chandru, Kaminidharan, Gora Bheema Rao, Bank Janardhan and others. The film was remade in Telugu as Pelli Chesi Choodu, in Tamil as Jaadikketha Moodi and in Hindi as Jawani Zindabad. Lahari Music was the music label of this movie.
All Songs were composed and lyrics written by Hamsalekha. Songs were rendered by S. P.
Balasubrahmanyam, Vani Jayaram and Lata Hamsalekha.
Check out the lyrics here..
Manasidu Hakkiya Goodu Lyrics
Movie: Avale Nanna Hendthi [1988]
Music Label: Lahari Music
Music: Hamsalekha
Lyrics: Hamsalekha
Singers: S. P. Balasubrahmanyam, Lata Hamsalekha
Neenu Haththira Iddiddare Lyrics
Movie: Avale Nanna Hendthi [1988]
Music Label: Lahari Music
Music: Hamsalekha
Lyrics: Hamsalekha
Singers: S. P. Balasubrahmanyam, Vani Jayaram
Hey Hudugi Nagutha Nodu Lyrics
Movie: Avale Nanna Hendthi [1988]
Music Label: Lahari Music
Music: Hamsalekha
Lyrics: Hamsalekha
Singers: S. P. Balasubrahmanyam, Vani Jayaram
Meese Hoththa Gandasige Lyrics
Movie: Avale Nanna Hendthi [1988]
Music Label: Lahari Music
Music: Hamsalekha
Lyrics: Hamsalekha
Singers: S. P. Balasubrahmanyam
Poorvadalli Chandra Bandaru Lyrics
Movie: Avale Nanna Hendthi [1988]
Music Label: Lahari Music
Music: Hamsalekha
Lyrics: Hamsalekha
Singers: S. P. Balasubrahmanyam
Comments
comments