January 11, 2018
Ba Kollona Lyrics
Ba Kollona Lyrics: Ba Kollona is a song from an upcoming 2018 Kannada movie Kumari 21F, directed by Sriman Vemula. The movie is produced by A Sampath Kumar and G Sridhar under the banner Shri Hayagriva Kala Chitra. The film is a remake of 2015 Telugu film of the same title which was said to be loosely based on French film, "Lila Says", was directed by Palnati Surya Pratap starring Raj Tarun and Hebah Patel.
Kumari 21F Kannada remake features Pranam Devaraj, Nidhi Kushalappa, Avinash, Manoj, Akshay, Rithesh and others. Aanand Audio is the music label of this movie. This song was composed by Sagar Mahati with lyrics penned by K. Kalyan. Ba Kollona was rendered by Anurag Kulakarni and Ramya Behara.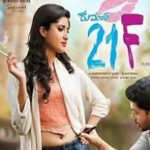 Ba Kollona Lyrics
Album: Kumari 21F [2018]
Music: Sagar Mahati
Music Album: Aanand Audio
Lyrics: K. Kalyan
Singers: Anurag Kulakarni, Ramya Behara
Check out the lyrics here..
Baa Kollona Aakashadalli Fourty-Sixty
Chelladona Nakshthra Butti
Nam Heart-Alli Yaav Traffic Illa Graphic Illa
Santhoshakkendu Innilla Saati
Are Kandirlilla Kelirlilla Intha Sangathi
Heegella Unta Abbabbabba Preethi
Nan Yedeya Olage Thousand Wattsu Bulbu Hutkondu
— Pajeethi
Oh Baby — Feeling
Nanna Hrudaya Started Crying
Almost — Feeling
Lets Loose Control
Oh Baby — Feeling
Anisuththade My Life Begining
Idu Crazy Yaagide Feeling
Ok Lets Gooo
Baa Kollona Aakashadalli Fourty-Sixty
Chelladona Nakshthra Butti
Nam Heart-Alli Yaav Traffic Illa Graphic Illa
Santhoshakkendu Innilla Saati
Night-Alli Cooling Glaas-U
Haakondu Noduva Vayasu
Beththale Kannige Endu
Aa Bhayankara Chandavannu Thorisabaaradu
Gaali Kooda Chali Antha Naduguthide
Thunthuru Male Snaana Maaduthide
Ee Raathri Yella Rug-Gu Hoththu Malaguthide
Ee Deha Maathra Bevaru Surisuththide
Baa Kollona Aakashadalli Fourty-Sixty
Chelladona Nakshthra Butti
Nam Heart-Alli Yaav Traffic Illa Graphic Illa
Santhoshakkendu Innilla Saati
Are Kandirlilla Kelirlilla Intha Sangathi
Heegella Unta Abbabbabba Preethi
Nan Yedeya Olage Thousand Wattsu Bulbu Hutkondu
— Pajeethi
Oh Baby — Feeling
Nanna Hrudaya Started Crying
Almost — Feeling
Lets Loose Control
Oh Baby — Feeling
Anisuththade My Life Begining
Idu Crazy Yaagide Feeling
Ok Lets Gooo
Comments
comments