July 4, 2017
Baaji Katti Nodu Lyrics
Baaji Katti Nodu Lyrics: Baaji Katti Nodu [Kokorekoko Kokorekoko Ko] is a song from the 1972 Kannada movie Sipayi Ramu, directed by Y. R. Swamy. The film is based on the novel Barale Innu Yamune? by Nuggehalli Pankaja. Sipayi Ramu features Rajkumar, Leelavathi, Aarathi, K. S. Ashwath, Shivaram, Vajramuni, Thoogudeepa Srinivas and others. Saregama is the music label of this movie. This song was composed by Upendra Kumar with lyrics penned by R. N. Jayagopal.  Baaji Katti Nodu was rendered by S. P. Balasubrahmanyam, L. R. Eswari.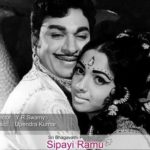 Kokorekoko Kokorekoko Ko Lyrics
Movie: Sipayi Ramu [1972]
Music Label: Saregama
Music: Upendra Kumar
Lyrics: R. N. Jayagopal
Singers: S. P. Balasubrahmanyam, L. R. Eswari
Check out the lyrics here..
Kokorekoko Kokorekoko Kokorekoko Ko
Bahare Mera Muruga
Bahare Nanna Ranga
Yaaru Illa Saati Iva Bhale Kiladi Ranga
Baaji Katti Nodu Baara Meese Maava
Baaji Katti Nodu Baara Meese Maava
O Maava O Maava O Maava Meese Maava
Baaji Katti Nodu Baara Meese Maava
Nathna Nathna Nathnathnathna Hmm
Bahare Mera Muruga
Bahare Nanna Singa
Singana Munde Ranganu Endu Ingu Thinda Manga
Baaji Kattalendu Bande Gandubeeri Henne
Baaji Kattalendu Bande Gandubeeri Henne
Arey Chodo Arey Dekho
Savalu Nandu Jawabu Nindu
Noduve Yeke Hindu Mundu
Patapati Kaalagava Maadu Maadu
Latapati Horaatava Nodu Nodu
Potapoti Gandagundi
Potapoti Gandagundi
Hedrolalla Naanu Bandi
Baaji Katti
Baaji Katti Nodu Baara Meese Maava
Baaji Kattalendu Bande Gandubeeri Henne
Ranga Sarrantha Haari Bandu Kukkuva
Singa Purr Antha Haari Hogi Nilluva
Arey Hath Therki
Ugurininda Singa Balavaagi Chucchidaaga
Bhayadinda Ranga Than Kelage Biddanaaga
Arey Nahi Nahi
Ranga Kopadinda Nuggi Bandu Kolluva
Ava Jambadinda Thale Etthi Nilluva
Ranga Kopadinda Nuggi Bandu Kolluva
Ava Jambadinda Thale Etthi Nilluva
Hai Nodthini Ondu Kai
Meese Mele Sai
Sothu Neenu Hisuka Beku Kai Kai Kais
Arey Baaji Katti Nodu Baara Meese Maava
Aha Baaji Kattalendu Bande Gandubeeri Henne
Wahare Mera Muruga
Wahare Nanna Ranga
Singana Munde Ranganu Endu Ingu Thinda Manga
Baaji Katti Nodu Baara Meese Maava
Aha Baaji Kattalendu Bande Gandubeeri Henne
O Maava O Henne O Maava O Henne O Maava
Sipayi Ramu Songs
Ellige Payana Yaavudo Daari
Nidireyu Sadaa Eko Doora
Kanna Notadalle Nee Kaadabeda
Thangaali Sangeetha Haadide
Kokorekoko Kokorekoko Ko
Save
Save
Comments
comments