March 3, 2018
Baanigondu Yelle Yellide Lyrics
Baanigondu Yelle Yellide Lyrics: Baanigondu Yelle Yellide is a song from 1976 Kannada movie Premada Kanike, directed by V. Somashekhar and the story was written by Salim-Javed based on the 1969 Hindi film Do Bhai. This film was remade in Tamil as Polladhavan in 1980 starring Rajinikanth.
Premada Kanike features Dr. Rajkumar, Aarathi, Jayamala, Vajramuni, Rajashankar, Balakrishna, Sampath, Thoogudeepa Srinivas, Ramadevi, B. Jaya, Rathnamala, Jayamma, Baby Poornima Rajkumar, Puneeth Rajkumar (credited as Master Lohith) and others.
Saregama was the music label of this movie.  This song was composed by Upendra Kumar with the lyrics penned by Chi. Udaya Shankar. Baanigondu Yelle Yellide song was rendered by Dr. Rajkumar. This evergreen song has great lyrics about life. Great composition and Rajkumar's rendering is awesome.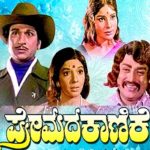 Baanigondu Yelle Yellide Lyrics
Movie: Premada Kanike [1976]
Music Label: Saregama
Music: Upendra Kumar
Lyrics: Chi. Udaya Shankar
Singer: Dr. Rajkumar
Check Out The Lyrics Here…
Hey Hehe Hehehe Hehehe
Haa Haa Hmmm Hmm Hmm
Baanigondu Yelle Yellide
Ninnaasegelli Koneyide
Yeke Kanasu Kaanuve
Nidhaanisu Nidhaanisu
Baanigondu Yelle Yellide
Ninnaasegelli Koneyide
Yeke Kanasu Kaanuve
Nidhaanisu Nidhaanisu
Aase Yemba Bisilu Kudure Yeke Yeruve
Maralugaadinalli Summaneke Aleyuve
Avana Niyama Meeri Illi Yenu Saagadu
Naavu Nenesidanthe Baalalenu Nadeyadu
Vishadavaagali Vinodavaagali
Adene Aagali Avane Kaarana
Baanigondu Yelle Yellide
Huttu Saavu Baalinalli Eradu Konegalu
Bayasidaaga Kaanadiruva Eradu Mukhagalu
Harushavonde Yaariguntu Helu Jagadali
Hoovu Mullu Eradu Untu Baala Latheyali
Duraase Yethake Niraase Yethake
Adene Bandaro Avana Kaanike
Baanigondu Yelle Yellide
Ninnaasegelli Koneyide
Yeke Kanasu Kaanuve
Nidhaanisu Nidhaanisu
Nidhaanisu Nidhaanisu
Premada Kanike [1976] Songs
Putta Putta Hejje Ittu
Baanigondu Yelle Yellide
Chinna Yendu Naguthiru Nanna
Idu Yaaru Bareda Katheyo
Naguveya Henne Naanu Jaari
Naa Bidalaare Yendu Ninna
Comments
comments