April 8, 2018
Baduke Achchari Song Lyrics
Baduke Achchari Song Lyrics:  Baduke Achchari is a song from an upcoming 2018 Kannada movie Heegondhu Dina, directed by Vikram Yoganand. V Vikas has written the screenplay. The film was produced by Chandrashekar under the banner Smart Screen Productions.  Heegondhu Dina features Sindhu Loknath, Praveen Tej, Guru Prasad, Mithra, Shobraj, Giri, Girija Lokesh, Balaji Manohar and others.
Divo is the music label of this movie. This song was composed by Abhilash Gupta with lyrics written by Ramakrishna Ranagatti.  Baduke Achchari was rendered by Abhilash Gupta.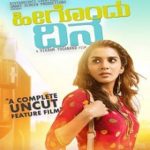 Baduke Achchari Lyrics
Movie: Heegondhu Dina [2017]
Music Label: Divo
Music: Abhilash Gupta
Lyrics: Ramakrishna Ranagatti
Singer: Abhilash Gupta
Check out the lyrics here..
Ee Manada Mana Manada Daari
Kanasa Kanda Neene Sanchaari
Daariyali Horatantha Hosa Daariya
Kanasondu Kai Chaachi
Nee Karedaaga Aa Daariya Seri
Neen Aralu Mana Bichchi
Prathi Yochane Ninnade
Sahi Haaku Swapnake
Khushi Thumbo Jeevake
Haniyaagi Aleyaagi Thelaadu Nee
Ee Baduke Achchari
Ee Belake Dinachari
Baredidu Nee Dinachari
Sadhane Gooda Seru Nee Haari
Chalada Rekke Thereda Sanchaari
Mundakido Hejjegale Mana Hasidiro
Kanasige Kai Thuththu
Kalpaneya Kann Theredu Neenaagu
Kadalaalada Muththu
Prathi Yochane Ninnade
Sahi Haaku Swapnake
Khushi Thumbu Jeevake
Haniyaagi Aleyaagi Thelaadu Nee
Ee Baduke Achchari
Ee Belake Dinachari
Baredidu Nee Dinachari
Bhavane Bayasida Belakaagu Nee
Sadhane Selethake Usiraagu Nee
Ninna Prathiyondu Hejjeyu
Saddagi Bhaavadaleyaagi
Ondu Impaada Kampaada Haadaagu Nee
Ee Baduke Achchari
Ee Belake Dinachari
Baredidu Nee Dinachari
Comments
comments