January 9, 2018
Bannada Okuli Lyrics
Bannada Okuli Lyrics: Bannada Okuli is a song from the 1992 Kannada movie Midida Shruthi, directed by M. S. Rajashekar and produced by S. A. Govindaraj under the banner Nirupama Art Combines. The film was a adaptation of a kannada novel of the same name written by writer Sai Suthe.The screenplay and dialogues were written by T N Narasimhan and Geethapriya.
The film features Shivarajkumar, Sudharani, Srinath and Vinaya Prasad, Shimoga Venkatesh, Pruthviraj, Bharath, Ravikiran, Devaraj, Hema Choudhary, Sundarashri, Apsara, Parvathi, Sheela, Seema, Leela Basavaraj, Bangalore Nagesh, Mandeep Roy, Naveen, Aravind and others.
Sangeetha Audio is the music label of this movie. This song was composed by Upendra Kumar with lyrics penned by Sri Ranga. Bannada Okuli was rendered by S. P. Balasubrahmanyam and Manjula Gururaj.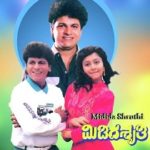 Bannada Okuli Lyrics
Movie: Midida Shruthi [1992]
Music Label: Sangeetha
Music: Upendra Kumar
Lyrics: Sri Ranga
Singers: S. P. Balasubrahmanyam, Manjula Gururaj
Check out the lyrics here..
Bannada Okuli Chelliralu
Kannali Kaamane Chimmiralu
Mai Mareside Savi Nenapu
Hrudayagalu Ondaagi
Bannada Okuli Chelliralu
Kannali Kaamane Chimmiralu
Mai Mareside Savi Nenapu
Hrudayagalu Ondaagi
Hooooo Holiyu Bandaga
Harushava Thandaga
Snehada Rangu Chelli
Olavanu Thandaaga
Mididide Shruthigalu Ondaagi
Bannada Okuli Chelliralu
Kannali Kaamane Chimmiralu
Mai Mareside Savi Nenapu
Hrudayagalu Ondaagi
Nooru Aasegala Bannadokuliya
Holi Habbavanu Nee Thande
Koti Kalpaneya Meeti Nannedeya
Premadevatheyu Neenaade
Jena Maathinali Jeeva Thumbisuva
Prema Gaarudiga Neenaade
Nanna Raagadali Ninna Bhavagala
Thumbi Geetheyanu Haadiside
Rangannu Thumbi Santhosa
Rangannu Thumbi Santhosa
Thandide Ee Preethiya Sandesha
Kannali Kaamane Chimmiralu
Mai Mareside Savi Nenapu
Hrudayagalu Ondaagi
Ninna Appugeya Prema Paashadali
Ella Lokava Naa Marethe
Ninna Muththugalu Thanda Maththinali
Premadarthavanu Naanirithe
Kanna Notadali Maiyya Maatadali
Nanna Hrudayavanu Kaddavale
Chandra Thareyali Daari Thappidaru
Endigu Neenu Nannavale
Rangannu Thumbi Santhosha Hoyyy
Thandide Ee Preethiya Sandesha
Kannali Kaamane Chimmiralu
Mai Mareside Savi Nenapu
Hrudayagalu Ondaagi
Hooooo Holiyu Bandaga
Harushava Thandaga
Snehada Rangu Chelli
Olavanu Thandaaga
Mididide Shruthigalu Ondaagi
Bannada Okuli Chelliralu
Mai Mareside Savi Nenapu
Hrudayagalu Ondaagi
Midida Shruthi Song Lyrics
Aa Surya Chandra
Yaavudu Preethi
Nanna Ninna Aase
Bannada Okuli
Nenedodane America
Comments
comments