June 19, 2018
Bhoomige Devaru Lyrics | Deergha Sumangali
Bhoomige Devaru Lyrics | Deergha Sumangali: Bhoomige Devaru is a song from the 1995 Kannada movie Deergha Sumangali, directed by D. Rajendra Babu and produced by D. R. Umashankari, R. Venkata Raju under the banner Adithya Movie Makers. Deergha Sumangali features Sithara, Devan, Ramakrishna, Srinivasa Murthy, B. V. Radha, Lakshman, Richard Louis, Srishailan, M. S. Karanth, Brahmavar and others with Vishnuvardhan in Guest Appearance.
Jhankar Music is the music label of this movie. This song was composed and written by Hamsalekha. Bhoomige Devaru Baranu song was rendered by playback singer S. P. Balasubrahmanyam.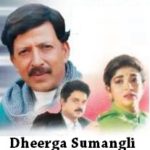 Bhoomige Devaru Lyrics
Movie: Deergha Sumangali [1995]
Music Label: Jhankar Music
Music: Hamsalekha
Lyrics: Hamsalekha
Singers: S. P. Balasubrahmanyam
Check out the lyrics here..
Bhoomige Devaru Baranu
Barade Summanu Iranu
Bhoomige Devaru Baranu
Barade Summanu Iranu
Thanna Badalu Hennanu Kalisidanantheye
Avala Thumba Karuneya Thumbidanantheye
Bhoomige Devaru Baranu
Barade Summanu Iranu
Devara Aanathi Marethalu Ee Kulanaari
Karuneya Jothe Preethiya Yeredalu
Vanavaasa Upavaasa Sahisalu Kalithalu
Pathiyannu Maguvaagi Saluhalu Arithalu
Ee Mannina Hasu Gannina Ee Hennina
Hirimege Brahma Mookanu
Bhoomige Devaru Baranu
Barade Summanu Iranu
Thanna Badalu Hennanu Kalisidanantheye
Avala Thumba Karuneya Thumbidanantheye
Bhoomige Devaru Baranu
Barade Summanu Iranu
Kshamaya Dharithri
Bhojeshu Maatha
Roopeshu Lakshmi
Salaheshu Manthri
Aluvina Arthava Arithide
Ee Sthree Kulavu
Aluviththanu Hennige Aleyalu
Aluvaaga Alisodu Devara Soothravo
Alivaaga Ulisodu Hennina Paathravo
Ee Ulisuva Sthree Mahimege
Jaga Alisuva Eeshvaranu Kalladanu
Bhoomige Devaru Baranu
Barade Summanu Iranu
Thanna Badalu Hennanu Kalisidanantheye
Avala Thumba Karuneya Thumbidanantheye
Bhoomige Devaru Baranu
Barade Summanu Iranu
Comments
comments