January 10, 2018
Chamak Chalo Kannada Song Lyrics
Chamak Chalo Kannada Song Lyrics: Chamak Chalo is a song from an upcoming 2018 Kannada movie Shathaya Gathaya written, directed and produced by Sandeep Gowda under the banner Alphaa Pictures. Shathaya Gathaya features Raghu Ramappa, Sonu S Gowda, Kuri Pratap, Gaddappa and others. Aanand Audio is the music label of this movie.
This song was composed by Ravinanda Jain with lyrics penned by Sandeep Gowda. Chamak Chalo was rendered by Hemanth Kumar and Indu Nagaraj.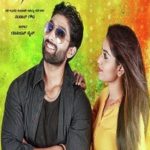 Chamak Chalo Lyrics
Movie: Shathaya Gathaya [2018]
Music Label: Aanand Audio
Music: Ravinanda Jain
Lyrics: Sandeep Gowda
Singers: Hemanth Kumar, Indu Nagaraj
Check out the lyrics here..
Chammak Challu Naa Chammak Challo |3|
Chammak Challo Chammak Challo
Challo Oorallella Ninde Gullu
Chammak Challo Chammak Challo
Challo Oorallella Ninde Gullu
Naa Athi Loka Sundari Chammak Challo
Locallu Chokari Chammak Challo
Yaarige Beku Ree Saalaagi Bandu Nilree
Saalaagi Bandu Nilree
Naakabandi Haakidroonu Nuggi Bartheene
Nooru Janaru Bandroonu Guddi Bartheene
Ninna Padeyo Otadalli Naanu Modaligane
Kele Chammak Challo Nee Nange Swanthaane |2|
Maiyya Mele Batte Idre Irritasionnu
Gandu Maklu Kandre Fullu Temptasionnu
Ilve Illa Nange Yaava Limitasionniu
Bennu Hathtu Baaro Yaako Confuisionnu
Alelele Sari Kanammi Sari Kanammi
Hogonna Naavu Baarammi
Sari Kanammi Sari Kanammi
Aagona Naav Daddy Mummy
Chammak Challo Chammak Challo
Challo Oorallella Ninde Gullu
Chammak Challo Chammak Challo
Challo Oorallella Ninde Gullu
Naa Athi Loka Sundari Chammak Challo
Locallu Chokari Chammak Challo
Yaarige Beku Ree Saalaagi Bandu Nilree
Saalaagi Bandu Nilree
Chammak Challo Chammak Challo
Chamak Chamak Chamak…
Shathaya Gathaya Song Lyrics
Lungi Yethkondu Myalakke
Khali Site Nanna Hrudaya
Thirboki Shoki
Chamak Chalo
Comments
comments