August 14, 2017
Chendutiya Pakkadali Song Lyrics | Drama | Yash Radhika Pandit
Chendutiya Pakkadali Song Lyrics | Drama | Yash Radhika Pandit: Chendutiya Pakkadali is a song from the 2012 Kannada movie Drama, directed by Yogaraj Bhat.
Drama Kannada movie features Yash, Radhika Pandit, Sathish Ninasam Sindhu Lokanath, Ambareesh, Rockline Venkatesh, K. Suchendra Prasad, Lohithashwa, Sampath Raj, Honnavalli Krishna, Kamesh, Achyuth Kumar, Sudhakar, Rajshekar Naidu, Bangalore Nagesh, Vijayasarathi, Naveen, Abhinaya, Malavika and others.
Chendutiya Pakkadali song was composed by V. Harikrishna with lyrics written by Yogaraj Bhat. Chendutiya Pakkadali song was rendered by popular playback singer Sonu Nigam.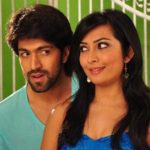 Chendutiya Pakkadali Lyrics
Movie: Drama [2012]
Music Label: Anand Audio
Music: V. Harikrishna
Lyrics: Yogaraj Bhat
Singers: Sonu Nigam
Check out Chendutiya Pakkadali song lyrics here..
Chendutiya Pakkadali Thumba Hatthira Ninthu
Guri Ittu Kaadigeya Bottidla
Ondolle Baigulava Nee Nudiyuva Haage
Athi Thunta Maathondu Naanaadla
Kidigedi Kanasonda Kattirla
Thada Maadade Sanna Mutthidla
Idu Yaavdu Heldene Mucchidla
Chendutiya Pakkadali Thumba Hattira Ninthu
Guri Ittu Kaadigeya Bottidla
Ondolle Baigulava Nee Nudiyuva Haage
Athi Thunta Maathondu Naanadla
Ee Ninna Haadina Póli Swaravaguvenu
Haadi Nodennanu Smile Aadru Barali
Naachikeya Nepadalli Odadiru Nanninda
Nee Mudida Sampigeya Smell Aadru Sigali
Kenneyali Kempaagi Ulidirla
Benninali Bevaraagi Naanirla
Idu Yaavdu Heldene Mucchidla
Chendutiya Pakkadali
Ommomme Yochisuve Yathakke Naanade
Yedeolage Kurchiyanu Ketthuva Badagi
Ibbaniyu Suduthihudu Thangali Naguthihudu
Inneshtu Cheligaala Kaayode Hudugi
Swapnakke Bed Sheetu Hochchirla
Chandrange Mobatthi Kottirla
Idu Yaavdu Heldene Muchidla
Bigiditta Thamboori Thanthiyanu Thaagiruve
Thundu Maadennanu Sound Aadru Barali
Ninna Thale Dimbina Chittharavaagiruve
Ninna Kanavarikeyali Ondandru Sigali
Signadantha Kone Saalu Bittirla
Yavadakku Konegondu Dot Idla
Idu Yaavdu Heldene Mucchidla
Chendutiya Pakkadali Thumba Hatthira Ninthu
Guri Ittu Kaadigeya Bottidla
Ondolle Baigulava Nee Nudiyuva Haage
Athi Thunta Maathondu Naanaadla
Comments
comments