September 22, 2017
Chitra Mathadide Lyrics
Chitra Mathadide Lyrics: Chitra Mathadide is a song from an upcoming 2017 Kannada movie 3 Gante 30 Dina 30 Second, written and directed by Madhusudhan. 3 Gante 30 Dina 30 Second features Aru Gowda, Kavya Shetty and others. Jhankar Music is the music label of this movie. This song was composed by Sridhar V. Sambhram with lyrics by Madhusudhan. Chitra Mathadide was rendered by Vijay Prakash.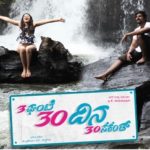 Chitra Mathadide Lyrics
Movie: 3 Gante 30 Dina 30 Second
Music Label: Jhankar Music
Music: Sridhar V. Sambhram
Lyrics: Madhusudhan
Singer: Vijay Prakash
Check out the lyrics here..
Chitra Maathadide
Chiththa Amaleride
Minchulli Henna Mana Gellalu
Sanchu Maadide Honchu Haakide
Thunta Gaali Ninna Thaaki
Maiyya Maatakke Marulaagide
Honna Bisilu Ninage Soki
Beragu Binnana Sereyaagide
Ninna Kandaaga Eneno Thavaka
Edeyaaladali Putidelo Pulaka
Ada Bannisalu Padagalale
Paipoti Shurivaagide
Chitra Maathadide
Chiththa Amaleride
Minchulli Henna Mana Gellalu
Sanchu Maadide Honchu Haakide
Jinugo Jenu Adharadalli
Minugo Nakshatra Kannanchinalli
Korala Venu Impinalli
Naduvu Latheyanthe Balukaado Balli
Aa Mungurule Thili Modadanthe
Ninna Nageyondu Kolminchinanthe
Ee Andakke Manasothu Premakke Sharanagide
Chitra Maathadide
Chiththa Amaleride
Minchulli Henna Mana Gellalu
Sanchu Maadide Honchu Haakide
3 Gante 30 Dina 30 Second Songs
Arda Chandra
Manasu Manasu
Chitra Mathadide
Bitti Buildup
Aaroythu Deepa
Save
Comments
comments