January 11, 2018
Dhakku Dhakku Lyrics
Dhakku Dhakku Lyrics: Dhakku Dhakku is a song from an upcoming 2018 Kannada movie Kumari 21F, directed by Sriman Vemula. The movie is produced by A Sampath Kumar and G Sridhar under the banner Shri Hayagriva Kala Chitra. The film is a remake of 2015 Telugu film of the same title which was said to be loosely based on French film, "Lila Says", was directed by Palnati Surya Pratap starring Raj Tarun and Hebah Patel.
Kumari 21F Kannada remake features Pranam Devaraj, Nidhi Kushalappa, Avinash, Manoj, Akshay, Rithesh and others. Aanand Audio is the music label of this movie. This song was composed by Sagar Mahati with lyrics penned by Kaviraj. Dhakku Dhakku was rendered by Puneeth Rajkumar.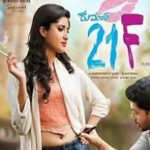 Dhakku Dhakku Lyrics
Album: Kumari 21F [2018]
Music: Sagar Mahati
Music Album: Aanand Audio
Lyrics: Kaviraj
Singer: Puneeth Rajkumar
Check out the lyrics here..
Auto Hinde Hodre Dhoolu Dhoolu
Hudgi Hinde Hodre Fullu Golu
Hey Auto Hinde Odidantha Saalu
Sathya Anisuththe Eega Kelu
Auto Hinde Hodre Dhoolu Dhoolu Aaho
Hudgi Hinde Hodre Fullu Golu Ooho
Hey Auto Hinde Odidantha Saalu
Sathya Anisuththe Eega Kelu
Iddenalla Thannage Naanu Nanna Paadige
Lovvu Nange Beka
Bisi Thuppa Baayige Haakikonde Ommege
Hey Nungabeka Ugalabeka Yenu Maadli Helu Maga
Dhakku Dhakku Dhakku Dhakku Dhakku
Heart-Alli Eega Dombaraatave
Lakku Lakku Lakku Lakku Lakku
Sariyaada Hudgi Sikkarallave
Nakko Nakko Nakko Nakko Nakko
Ee Lovvuu Nange Beda Allave
Are Beku Beku Beku Beku Beku
Love Ilde Life-U Waste-U Allave
Vayasigondu Girlu Friendu
Beku Antha Annisi
Hudukikonde Beautifullu
Hudugiyanne Aarisi
Hudugi Speedu Race-U Car-Uu
Nanna Auto-G Moore Gear-U
Are Mudde Saaru Pizza Burgur
Jodiyaagiro Haagide Ondakkondu Hondade
Dhakku Dhakku Dhakku Dhakku Dhakku
Heartnalli Iga Dombaraatave
Luckk-U Luckk-U Luckk-U Luckk-U Luckk-U
Sariyaada Hudgi Sikkarallave
Nakko Nakko Nakko Nakko Nakko
Ee Lovvuu Nange Beda Allave
Are Beku Beku Beku Beku Beku
Love Ilde Life-U Waste-U Allave
Hallo Hallo Hallo Please Wait
Start The Glass Music
Hudugaranna Thabbokondu
Pubbinalli Kunithaale
Friend-U Antha Bike-U Haththi
Long-U Ride-U Hoguthaale
Good Night-U Nange Night-U Tennu
Are Mid Night Nallu On-U Line-U
Yenu Maadli Heli Naanu
Heart-U Kottenu Kettenu Bittu Hogalaarenu
Dakku Dakku Dakku Dakku Dakku
Heartnalli Iga Dombaraatave
Luckk-U Luckk-U Luckk-U Luckk-U Luckk-U
Sariyaada Hudgi Sikkarallave
Nakko Nakko Nakko Nakko Nakko
Ee Lovvuu Nange Beda Allave
Are Beku Beku Beku Beku Beku
Love Ilde Life-U Waste-U Allave
Comments
comments