November 2, 2017
Dhruva Thare Song Lyrics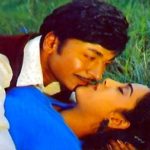 Dhruva Thare Song Lyrics: Dhruva Thare is a 1985 Kannada movie, directed by M. S. Rajashekar. The movie is based on the novel Aparanji written by Vijay Sasanur. Dhruva Thare features Rajkumar, Geetha, Deepa, Thoogudeepa Srinivas, Balakrishna, Shivaram, Ashwath Narayan and others. Sangeetha is the music label of this movie.
Songs were composed by Upendra Kumar with lyrics penned by Chi. Udaya Shankar. Songs were rendered by Rajkumar, Vani Jayaram and Bangalore Latha.
Check out the lyrics here..
Aa Moda Banalli Lyrics
Movie: Dhruva Thare [1985]
Music Label: Sangeetha
Music: Upendra Kumar
Lyrics: Chi. Udaya Shankar
Singers: Rajkumar, Vani Jayaram, Bangalore Latha
Aa Rathiye Dharegilidante Lyrics
Movie: Dhruva Thare [1985]
Music Label: Sangeetha
Music: Upendra Kumar
Lyrics: Chi. Udaya Shankar
Singers: Rajkumar, Bangalore Latha
O Nalle Savinudiya Lyrics
Movie: Dhruva Thare [1985]
Music Label: Sangeetha
Music: Upendra Kumar
Lyrics: Chi. Udaya Shankar
Singers: Rajkumar, Vani Jayaram
Nyayavelli Adagide Lyrics
Movie: Dhruva Thare [1985]
Music Label: Sangeetha
Music: Upendra Kumar
Lyrics: Chi. Udaya Shankar
Singers: Rajkumar, S. Janaki
Comments
comments