August 14, 2017
Drama Hitavachana Lyrics
Drama Hitavachana Lyrics: Drama Hitavachana is a song from the 2012 Kannada movie Drama, directed by Yogaraj Bhat. Drama features Yash, Radhika Pandit, Sathish Ninasam Sindhu Lokanath, Ambareesh, Rockline Venkatesh, K. Suchendra Prasad, Lohithashwa, Sampath Raj, Honnavalli Krishna, Kamesh, Achyuth Kumar, Sudhakar, Rajshekar Naidu, Bangalore Nagesh, Vijayasarathi, Naveen, Abhinaya, Malavika and others. This song was composed by V. Harikrishna with lyrics written by Yogaraj Bhat. Drama Hitavachana song was rendered by Tippu.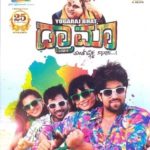 Drama Hitavachana Lyrics
Movie: Drama [2012]
Music Lable: Anand Audio
Music: V. Harikrishna
Lyrics: Yogaraj Bhat
Singer: Tippu
Check out the lyrics here..
Drama Taninananaa Othlaa Hitavachana
Sunday Aadamel Monday Bartade
Tenth Aadre PU Bartade
Corridor Le Kaalu Jaartade
Munde Heloke Naachke Aaytade
Haalu Yawwana Yaake Bartade
Lifu Saaladu Time Passige
Seeda Malkondru Sonta Noytade
Ippataadare Hingyaakaytade
Othlaa Othlaa Othlaa
Aase Dukhhakke Moola
Hoo Kan Hoo Kan Hel Laa
What Is This Nonsense Yaa??
Drama Taninananaaa Othlaa Hitavachana
Budlaa Mandyaa Rap
Tumbaa Saane Hidre Chaaku Iralla Handle Irtade
Sull Orginallu Satya Duplicate
Sambrani Hoge Hange Moordinda Baalu
Extraaordinaryyy
Motte Tindre Mari Illa Koli Tindre Motte Illa
Paapa Maadidre Payment Ide Swapnakke Baddi Beeltade
Lekka Barkali Barkali Barkali
Hoovig Kelsa Illa Araluttawe
Hudugrig Kelsa Illa Naraluttawe
Ondisht Hinge Helthiwi Naavu
Mikkideno Maadkali Neevu
Makklu Maadbedi Doddoryaatare
Doddoraagbedi Makklu Baytaare
Byaare Yen Maadad La??
Dappa Aadre Hororu Byytaare
Udda Aadre Hooloru Byytare
Don't Die Yaa.
Foreign Alli Byaaredella Modalu Preethi Aamele…
India Dalli Preethi Geethi Modalu Byaared Aamele
Othlaa Othlaa Othlaa…
Byaare Yellana Huttla
Hoo Kan Hoo Kan Hoglaa
What Is This Nonsense Yaa??
Drama Taninananaaa Othlaa Hitavachana
Gaade Maaathonda Swalpa Tilkali
Kayyi Kesaraadre Kai Tolkali
Extraaordinaryyy
Preethi Aadaga Chooru Tadkoli
Illa Hrudayakke Puncture Angadi
Tumba Ordinary
Olavu Ondu Devara Turike Soppu Yellru Kerkolli
Baalu Ondu Tengina Kaayi Chippu Yellru Hidkolli
Othlaa Othlaa Othlaa Tegiyo Bottli Muchllaa.
Hoo Kan Hoo Kan Haaklaa Stop This Nonsense Yaa
Drama Taninananaaa Othlaa Hitavachana
Comments
comments