November 20, 2017
Duniyadalle Don Lyrics
Duniyadalle Don Lyrics: Duniyadalle Don is a song from an upcoming Kannada movie Kanaka, directed by R. Chandru and produced by R.C.Movies. Kanaka features Duniya Vijay, Manvitha, Haripriya and others. Aananda Audio is the music label of this movie. This song was composed by Naveen Sajju with lyrics penned by Kaviraj. Duniyadalle Don was rendered by Kailash Kher.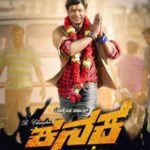 Duniyadalle Don Lyrics
Movie: Kanaka [2017]
Music Label: Aananda Audio
Music: Naveen Sajju
Lyrics: Kaviraj
Singer: Kailash Kher
Check out the lyrics here..
Duniyadalle Don-Uu Guru Naa Hodalle Daari Shuru
Duniya Nande Elliddaru Test Maadbeda Nan Tempre-Rru
Nyaya Neethi Nanna Soththu Muttok Bandre Ning Aapaththu
Jaggodilla Naan Yavathu Onde Yetig Ella Chukthu
Benkil Bende Agod Chinna Silent Aagi Idre Chenna
That Is That Is That Is Kanakaaa Kanakaaa Kanakaaa
Kanakaaa
Vishava Kudida Neelakanta Naanu Kooda Avana Banta
Dinna Dinna Dina Din Din Kanaka
Dinna Dinna Dina Din Din Kanaka
Dudimegintha Devarunta Iduve Nanna Modala Paata
Naanu Endare Ekaangi Endu Naavu Endare Lokaane Nindu
Nonda Janaru Thumba Iharu Ella Nannavaru
Kopa Bandre Iva Benkiya Chendu Varaseyalli Iva Yamana Friendu
Jwalamukhiya Jothe Sarasa Yeke Bada Thoofaanu Ivanu Joke
That Is That Is That Is Kanakaaa Kanakaaa Kanakaaa
Kanakaaa
Naanu Hutta Bande Kallu Thaakabeda Doora Nillu
Dinna Dinna Dina Din Din Kanaka
Dinna Dinna Dina Din Din Kanaka
Sidila Thundu Nanna Tholu Kenakabeda Kanasinallu
Jagake Belaku Koduvantha Soorya
Thanna Paadige Iruthane Geleya
Yaava Lekkavu Naanu Neenu Saaku Kenakadiru
Dushta Kootada Dhwamsa Kaaraka
Ashta Grahagala Aalo Baalaka
Shishtachaarake Ivanu Sevaka
Ella Gello Mukkanna Naayaka
That Is That Is That Is Kanakaaa Kanakaaa Kanakaaa
Kanakaaa
Comments
comments