April 3, 2018
Ee Bhaavageethe ninagaaagi Song Lyrics
Ee Bhaavageethe ninagaaagi Song Lyrics: Ee Bhaavageethe ninagaaagi is a song from the 1983 Kannada movie Onde Guri, directed by H. R. Bhargava. Story of the movie was written by M. P. Shankar, who produced this movie under the banner Bharani Chithra. Chi Udayashankar wrote the dialogues.
Onde Guri features Vishnuvardhan, Madhavi, M. P. Shankar, Ramakrishna, Sahukar Janaki, Prabhakar, Vajramuni, Shakthi Prasad, Sudheer, Jayamalini, Neegro Johny, Vijay, Sundar Krishna Urs, Musuri Krishnamurthy , Dinesh, Chethan Ramarao, Uma Shivakumar, Sadhana and others.
H. R. Bhargava is one of the noted directors in Sandlewood film industry. Hunsur Ramachandra Bhargyachandra was born in Hunsur, Mysore, Karnataka. Famous fiolm personality Hunsur Krishnamurthy was his uncle. before becoming director, H. R. Bhargava used to produce movie. He made his directorial debut in 1977 with super hit Kannada movie Bhagyavantharu starring Dr. Rajkumar and B. Saroja Devi. He has directed 50 movies.
The information about the music label of this movie in not available. This song was composed by legendry music duo of Kannada cinema, Rajan-Nagendra with lyrics written by gratest lyricist of Kannada Chi. Udaya Shankar. Ee Bhaavageethe ninagaaagi Song was rendered by singer S. P. Balasubrahmanyam.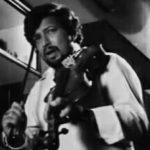 Ee Bhaavageethe ninagaaagi Lyrics
Movie: Onde Guri [1983]
Music Label: N/A
Music: Rajan-Nagendra
Lyrics: Chi. Udaya Shankar
Singers: S. P. Balasubrahmanyam
Check out the lyrics here..
Ee Bhaavageethe Ninagaaagi Haaadide
Anuraaga Nannanu Kaviyaagi Maadide
Ee Bhaavageethe Ninagaagi Haadide
Balliyali Hoovu Thumbi
Maragalali Jeeva Thumbi
Yellelli Nodidaralli Hosa Hasiru Thumbide
Haaduthire Dumbigalella Haaruthire Hakkigalella
Tholinda Nannanu Balasi Nee Saniha Ninthire
Ninna Andha Kandu Santhosha Gondu
Hosa Bhaava Moodalu
Ee Bhavageethe Ninagaagi Haadide
Kanninali Roopa Thumbi
Manasinali Prema Thumbi
Nannedeya Veeneya Meeti
Hosa Naada Thumbide
Aasegala Kannu Thumbi
Mohavanu Thumbi Thumbi
Nooraaru Kanasugalannu Baalalli Thumbide
Eegeke Heege Nee Mounavaade Kaarana Helade
Ee Bhaavageethe Ninagaagi Haadide
Anuraaga Nannanu Kaviyaagi Maadide
Ee Bhaavageethe Ninagaagi Haadide
Ee Bhaavageethe Ninagaagi Haadide
Ninagaagi Haadide
Onde Guri Song Lyrics
Ee Bhaavageethe Ninagaaagi
Nannanegu Naa Ninnanu Innendigu
Ranga Baaro Shree Ranga Baaro
Anda Nodi Chanda Nodi
Comments
comments