April 9, 2018
Ee Namma Naade Chandavo Song Lyrics
Ee Namma Naade Chandavo Song Lyrics: Ee Namma Naade Chandavo is a song from the 1988 Kannada movie Samyuktha, directed by K. N. Chandrashekar Sharma. The film was produced by S. A. Govinda Raj and V. Bharath Raj under the banner Nirupama Art Combines. The film was based on a kannada novel 'Musuku' by writer Kakolu Saroja Rao.
Samyuktha features Shivarajkumar, Balaraj, Chi Guru Dutt, K. S. Ashwath, Veena, Sundar Krishna Urs, Avinash, Sundar Raj, Shivaram, Honnavalli Krishna, Ashwath Narayana, Sathish, Brahmavar, Roopadevi,Sudha Narasimharaju, Prashanthi Nayak, Nayana, Shyamala, Neegro Johny, Rajeshwari, Devaraj, Batti Mahadevappa, Keetrhi Kumar, Kunigal Ramanath, Circus Raja and others.
Background music for this film was scored by Shankar Ganesh. This song was composed by very famous director Singeetham Srinivasa Rao with lyrics penned by one and only Chi. Udaya Shankar. Ee Namma Naade Chandavo song was rendered by Singer S. P. Balasubrahmanyam, Mano and Ramesh.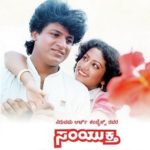 Ee Namma Naade Lyrics
Movie: Samyuktha [1988]
Audio Label: Lahari Music
Music: Singeetham Srinivasa Rao
Lyrics: Chi. Udaya Shankar
Singers: S. P. Balasubrahmanyam, Mano and Ramesh
Check out the lyrics here..
Ee Namma Naade Chandavo
Ee Namma Nudiye Chandavo
Ee Namma Naade Chandavo
Ee Namma Nudiye Chandavo
Giri Giryali Balu Balukutha
Hariyuva Nadi Chenna
Hasu Hasirina Lathe Latheyali
Aralida Suma Chenna
Gida Maradali Araginigala
Chili Pili Dhani Chenna
Oho Ho Hoo Oho Ho Hoo
Ee Namma Naade Chandavo
Ee Namma Nudiye Chandavo
Gaaliyu Sumagala Parimala
Tharuthide Beesutha
Payanake Hurupanu Kodo
Hosathanavanu Thumbutha
Gaaliyu Sumagala Parimala
Tharuthide Beesutha
Payanake Hurupanu Kodo
Hosathanavanu Thumbutha
Santhosha Manake Thandide
Ullaasa Baduku Kandide
Ee Haadi Sundara
Ee Nota Sundara
Oho Ho Hoo Oho Ho Hoo
Ee Namma Naade Chandavo
Ee Namma Nudiye Chandavo
Nodado Nayanava Seleyuva
Hudugiyarandava
Bidadele Hudukiko Jothe
Ninna Manasige Hidisuva
Nodado Nayanava Seleyuva
Hudugiyarandava
Bidadele Hudukiko Jothe
Ninna Manasige Hidisuva
Sangaathi Eega Bandare
Samsaara Emba Thondare
Haththaaru Makkalu
Golaado Dhanigalu
Oho Ho Hoo Oho Ho Hoo
Ee Namma Naade Chandavo
Ee Namma Nudiye Chandavo
Giri Giryali Balu Balukutha
Hariyuva Nadi Chenna
Hasu Hasirina Lathe Latheyali
Aralida Suma Chenna
Gida Maradali Araginigala
Chili Pili Dhani Chenna
Oho Ho Hoo Oho Ho Hoo
Ee Namma Naade Chandavo
Ee Namma Nudiye Chandavo
Samyuktha Kannada Movie Songs
Ee Namma Naade Lyrics
Mysoorinalli Mallige
Preethiyo Premavo Mohavo
Aakasha Baagide
Thangaaliyagi Hode
Comments
comments