March 1, 2018
Ee Prema Hithavaagide Lyrics
Ee Prema Hithavaagide Lyrics: Ee Prema Hithavaagide is a song from the 1985 Kannada movie Nee Bareda Kadambari, directed and produced by Dwarakish. This is Dwarakish's debut film as a director. Nee Bareda Kadambari features Vishnuvardhan, Bhavya, C. R. Simha, Sundarraj, Hema Choudary, Uma Shivakumar, Lohithashwa, Shivalingaraju, Thipatur Siddaramaiah, Giridhar, Aarooru Sathyabhama, Chethan Ramarao, Master Arjun, Jayakumar, Umesh Hegde, Jayashree, Devika Rani, Jyothi Priya and others.
This film was a remake of 1985 Hindi film Pyar Jhukta Nahin starring Mithun Chakraborty. The film was later remade in Tamil as Naan Adimai Illai featuring Rajinikanth and Sridevi. Sangeetha Music is the music label of this movie.
This song was composed by Vijayanand with lyrics penned by R. N. Jayagopal. Ee Prema Hithavaagide was rendered by S. P. Balasubrahmanyam and Manjula Gururaj.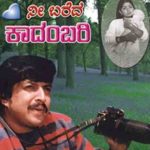 Ee Prema Hithavaagide Lyrics
Movie: Nee Bareda Kaadambari [1985]
Music Label: Sangeetha
Music: Vijayanand
Lyrics: R. N. Jayagopal
Singers: S. P. Balasubrahmanyam, Manjula Gururaj
Check out the lyrics here..
Premada Seletha Manadalli Miditha
Adara Sihi Novella Ballavane Balla
Aarambhavello Mukthaayavello
Arithavaru Illa Avanobbane Balla
Ee Prema Hithavaagide
Sangama Sukhavvagide
Anuraagada Aanandavu Jothege Seride
Hey I Love You Hey I Love You
Ee Prema Hithavaagide
Sangama Sukhavvagide
Anuraagada Aanandavu Jothege Seride
Nalleye Ninna Haadiyalindu
Hoovanu Thandu Haasuvenu
Nallane Ninna Daariyalindu
Chandrana Belake Thumbuvenu
Premada Loka Thorisuve La La La
Ninnanu Seri Naaniruve La La La
Baaluva Reethi Baaluva Neethi
Kaanuve Nallane Jotheyaagiye
Ee Prema Hithavaagide
Sangama Sukhavvagide
Anuraagada Aanandavu Jothege Seride
Baanali Neeli Thumbida Haage
Ninnali Naanu Seruvenu
Hovali Gandha Serida Haage
Ninnanu Koodi Baaluvenu
Yendigu Ninna Naa Bidenu
Kanasalu Doora Naanirenu
Dehavu Naanu Pranavu Neenu
Doorake Hooguva Nudi Yethake
Ee Prema Hithavaagide
Sangama Sukhavvagide
Anuraagada Aanandavu Jothege Seride
Hey I Love You Hey I Love You
Hey I Love You Hey Hey Hey I Love You
Nee Bareda Kaadambari [1985] Songs
Nee Meetida Nenapellavu [Duet]
Nee Meetida Nenapellavu [S.Janaki]
Nee Meetida Nenapellavu [SPB]
Ee Prema Hithavaagide
Soorya Chandra Aakashakke
Comments
comments