August 23, 2018
El El Mallige Song Lyrics | Chandramukhi Pranasakhi
El El Mallige Song Lyrics | Chandramukhi Pranasakhi: El El Mallige El Sutthina Mallige is a song from the 1999 Kannada movie Chandramukhi Pranasakhi, directed by Seetharam Karanth. The film was produced by N K Prakash Babu under the banner Shreematha Pictures.
Chandramukhi Pranasakhi features Ramesh Aravind, Prema, Bhavana, Srinivasa Murthy, Vaishali Kasaravalli, Akhila, Shivaram, B. V. Radha, Renukamma Murugod, Eshwari Kumari, Narayan, Mysore Ramanand, Mandeep Roy, Cheluvamurthy, Sudheer, Suresh Kumar, Sudarshan Gatti, K. K Gatti and others.
Lahari Music is the music label of this movie. This songs was composed and written by K. Kalyan. El El Mallige Song was rendered by singers S. P. Balasubramanyam, K. S. Chithra and Bhutto.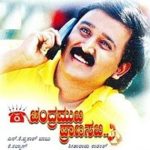 El El Mallige Lyrics
Movie: Chandramukhi Pranasakhi [1999]
Music Label: Lahari Music
Music: K. Kalyan
Lyrics: K. Kalyan
Singers: S. P. Balasubramanyam, K. S. Chithra, Bhutto
Check out the lyrics here..
El El Mallige El Sutthina Mallige El Bannada Billu Thartin Baa
El El Mallige El Sutthina Mallige El Minchina Baana Bidthin Baa
Elu Bannada Billu Nangyake Helu Hoo Hadinelu Bannamallide
Elu Minchina Baana Inyake Helu Hoo Hadinelu Minchin Kanndide
Elu Hadinelu Inyake Nanghelu
Elu Swaradalle Hadon Eddelu
El El Mallige Elu Sutthin Mallige El Padugal Eli Kodtin Baa
Elu Bettana Hatthi Elu Samudra Sutthi En Thande Helu Nanage
Elu Thara Tharada Hoovu Elu Phalpalne Mutthu Kadkondu Bande Mellege
Elu Tharada Swara Premadallide Premakke Swaravellide..
Elu Tharada Jwara Kamadallide Kaamakke Jwaravellide..
El El Loka Nammade
Elu Divasakke Onde Vaara Antha Gottu Yavatthu Raja Namage
Elu Varanu Elel Muthittu Korodiddre Raja Raani Naave Namage
Elu Rushiya Mandaladolagu Elu Khushiya Katheyu Ninage
El El Mallige El Sutthina Mallige El Bannada Billu Thartin Baa
Elu Hejjege Maduve Elu Janmakke Preethi Hangyaake Helu Namage
Elu Adbhuthadante Elu Vasanthadanthe Ella Elu Namge Yelige
Elu Yugada Hinde Ninna Kandidde Iglu Hange Irodu Henge..
Elu Ruthuva Olage Bhoomi Iddange Ninna Preethi Nanna Olage..
El El Loka Nammade
Elu Kshanakke Ondu Yugala Geethena Haduva Kelasa Namage
Elu Hadalli Kone Pakshakke Elaadru Premigale Gellod Konege
El Elu Koti Oor Janare Iddaru Elu Hadinelu Koti Muththu Ninage
El El Mallige Elu Sutthin Mallige El Padugal Eli Kodtin Baa
El El Mallige El Sutthina Mallige El Bannada Billu Thartin Baa
Chandramukhi Pranasakhi Songs
Nenapugala Maathu Madhura
Manase O Manase
Modala Prema Patrave
Chiguru Bombeye
Aralo Hunnime
El El Mallige
Ondu Prema Pallakkiya Mele
Chandramukhi Hoy
Comments
comments