January 19, 2018
Ganga Yamuna Sangama Lyrics
Ganga Yamuna Sangama Lyrics: Ganga Yamuna Sangama is a song from the 1986 Kannada movie Anuraga Aralithu, directed by M.S. Rajashekhar and produced by M S Putta Swamy under the banner Bhargavi Art Movies. This film was based on the Kannada novel Anuragada Anthapura by writer H. G. Radhadevi. Anuraga Aralithu features Dr. Rajkumar, Madhavi, Geetha, Pandari Bai, K. S. Ashwath, Thoogudeepa Srinivas, Kunigal Ramanath and others.
This film was later remade in Tamil as Mannan starring Rajinikanth and Vijayashanti, in Telugu as Gharana Mogudu featuring Chiranjeevi and Nagma, Hindi version Laadla featured Anil Kapoor and Sridevi in the lead roles.
Sangeetha music was the music label of this Kannada movie. This song was composed by Upendra Kumar with lyrics penned by Chi. Udaya Shankar. Ganga Yamuna Sangama song was rendered by Dr. Rajkumar and S. Janaki.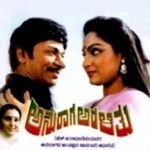 Ganga Yamuna Sangama Lyrics
Movie: Anuraga Aralithu [1986]
Music Label: Sangeetha
Music: Upendra Kumar
Lyrics: Chi. Udaya Shankar
Singers: Dr. Rajkumar, S. Janaki
Check out the lyrics here..
Aaahaaa Laalala Lala
Aa Aa Aa Aa Aha Aha Aha Aha
Ganga Yamuna Sangama
Ganga Yamuna Sangama
Ee Prema
Kene Haalu Jenu Seridanthe Ee Baduku
Kene Haalu Jenu Seridanthe Ee Baduku
Ganga Yamuna Sangama
Ganga Yamuna Sangama
Ee Prema
Kene Haalu Jenu Seridanthe Ee Baduku
Kene Haalu Jenu Seridanthe Ee Baduku
Thajanu Tha Thajanu Tha Thajanu Tha
Thajanu Tha Thajanu Tha Thajanu Tha
Thajanu Thajanu Tha
Anudina Santhosha Anukshana Ullaasa
Geleya Ninna Seri Premada Aavesha
Pranayada Kannota Sarasada Chellaata
Dinavu Nodi Nodi Olavina Thuntaata
Arithu Berethu
Kene Haalu Jenu Seridanthe Ee Baduku
Kene Haalu Jenu Seridanthe Ee Baduku
Ganga Yamuna Sangama
Ganga Yamuna Sangama
Ee Prema
Thaka Janu Thaka Janu Thaka Janu
Tha Janu Tha Janu Tha Janu Tha Janu
Thaka Janu Thaka Janu Thaka Janu
Tha Janu Tha Janu Tha Janu Thaa
Baalali Innendu Chintheya Maathilla
Gelathi Yene Kelu Koduve Naanella
Kelenu Yenannu Bayesenu Innenu
Geleya Endu Heege Preethisu Nannanu
Ninna Seri
Kene Haalu Jenu Seridanthe Ee Baduku
Kene Haalu Jenu Seridanthe Ee Baduku
Ganga Yamuna Sangama
Ganga Yamuna Sangama
Ee Prema
Kene Haalu Jenu Seridanthe Ee Baduku
Kene Haalu Jenu Seridanthe Ee Baduku
Aaahaaa Aaahaaa Laalala Lala Laalala Lala
Aha Aha Aha Aha Aha Aha
Anuraga Aralithu Song Lyrics
Ganga Yamuna Sangama
Nee Nadedare Sogasu
Srikantha Vishakantha
Saarthakavaayithu
Beesadiru Thangaali Thampannu
Comments
comments