July 12, 2018
Gumthalakadi Gula Gula Lyrics | The Villain [2018] Promo Song
Gumthalakadi Gula Gula Lyrics | The Villain [2018] Promo Song: Gumthalakadi Gula Gula is promotional song from the upcoming 2018 Kannada movie The Villain, written and directed by Prem. The film was produced by C. R. Manohar under the banner Tanvi – Shanvi Films. The Villain features ensemble cast of Karunaada Chakravarthy Dr. Shivarajkumar and Abhinaya Chakravarthy Kichcha Sudeepa, Amy Jackson, Hindi superstar Mithun Chakraborty, Mukul Dev, Srikanth, Sruthi Hariharan, Radhika Chetan and others.
Aananda Audio Video is the record label of this song. This promotional song was composed by HVR with lyrics penned by Vijay Eshwar, Chandu Parthadhwaja & HVR. Gumthalakadi Gula Gula The Villan Kannada song was sung by singers Jogi Sunitha, Madhwesh Bharadwaj and HVR.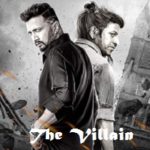 Gumtalakadi Gula Gula Promotional Song Lyrics
Movie: The Villain [2018]
Record Label: Aananda Audio Video
Music: HVR
Singers: Jogi Sunitha, Madhwesh Bharadwaj, HVR
Lyrics: Vijay Eshwar, Chandu Parthadhwaja, HVR
Check out the lyrics here..
Gumthalakadi Gula Gula Hoo Ha Hoo Haa Gumthalakadi Gula Gula |2|
Karunaada Chakravarthy Ivarene Namma Shivanna
Abhinaya Chakravarthy Ivarene Namma Deepanna
Ivribra Maasu Combination
Superru Nodi Ee Sensation
Shivange Huchchu Kichchange Huchchu
Hidsoru Jogi Prem Directionnu !
Gumthalakadi Gula Gula Hoo Ha Hoo Haa Gumthalakadi Gula Gula |2|
Karunaada Chakravarthy Ivarene Namma Shivanna
Abhinaya Chakravarthy Ivarene Namma Deepanna
Alli Nodu Shivanna Illi Nodu Deepanna
Ella Kade Idara Hava Villain Villain Villain
Masssu Classu Ivarene Bossu
Ivaribra Jodi Nodi Khallassu
Box Office-U Yella Piece Piece-U
Excuseme Kodthare Villain Dose-U
Hebbuli Ivaru…. Gummo Tagaru
Dk Sahebane Director-Uu
Gumthalakadi Gula Gula Hoo Ha Hoo Haa Gumthalakadi Gula Gula |2|
Karunaada Chakravarthy Ivarene Namma Shivanna
Abhinaya Chakravarthy Ivarene Namma Deepanna
Alli Nodu Shivanna Illi Nodu Deepanna
Ella Kade Idara Hava Villain Villain Villain
Preethi Yaake Ee Bhoomi Myale
Jogi Jogayya Show Man Ivaru
Thaayi Sentiment Gaagi Rowdism
Bitta Karunaada Kanda Ivaru
Bangaara Avaru Maanikya Ivaru
Raama Raavanaralli Villain Yaaru
Gumthalakadi Gula Gula Hoo Ha Hoo Haa Gumthalakadi Gula Gula |2|
Karunaada Chakravarthy Ivarene Namma Shivanna
Abhinaya Chakravarthy Ivarene Namma Deepanna
Alli Nodu Shivanna Illi Nodu Deepanna
Ella Kade Idara Hava Villain Villain Villain
Comments
comments