October 24, 2017
Hasi Bisi Lyrics
Hasi Bisi Lyrics: Hasi Bisi is a song from an upcoming 2017 Kannada movie College Kumar, directed by Alemaari Santhu. College Kumar features Vicky [Kendasampige fame], Samyuktha Hegde [Kirik Party fame], Ravishankar, Shruthi, Sadhu Kokila and others. Jhankar Music is the music label of this movie. This song was composed by Arjun Janya with lyrics penned by Jayanth Kaikini. Hasi Bisi was rendered by Shweta Mohan.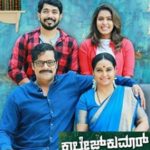 Hasi Bisi Lyrics
Movie: College Kumar [2017]
Music Label: Jhankar Music
Music: Arjun Janya
Lyrics: Jayanth Kaikini
Singer: Shweta Mohan
Check out the lyrics here..
Hasi Bisi Hrudayavu Horatide Ninna Himbaalisi
Jotheyali Jagavane Mareyalu Nanagu Thumba Khushi
Kareya Needale Bayasi ————————-
Neenendare Nanageegale Entha Kouthuka
Khalanayaka Neeneke Aakarshaka
Hasi Bisi Hrudayavu Horatide Ninna Himbaalisi
Jotheyali Jagavane Mareyalu Nanagu Thumba Khushi
Santheli Onchuru Kai Sokuvaaga
Jeevake Laksha Deepothsava
Ee Kanna Thereyalli Minchuththiro
Samachaara Neeninnu Odillava
Kanasondanu Heneyuththide Nanna Kalpane
Neraverisu Nee Bandu Udghaatane
Hasi Bisi Hrudayavu Horatide Ninna Himbaalisi Himbaalisi
Jotheyali Jagavane Mareyalu Nanagu Thumba Khushi
Inyaralo Kooda Naa Kaanadantha
Divya Kidiyondu Ninnallide
Elliddaru Jeeva Ninnondige
Idi Rathri Maleyanthe Maathadide
Maremaachuva Gadi Daatide Nanna Akkare
Pratispandisu Nee Bega Goththaadare
Hasi Bisi Hrudayavu Horatide Ninna Himbaalisi
Jotheyali Jagavane Mareyalu Nanagu Thumba Khushi
College Kumar Songs
Naavu Last Bench
Marali Marali
Hasi Bisi
Nanna Kuse
Save
Save
Comments
comments