April 8, 2018
Heegondhu Dina Title Track Lyrics
Heegondhu Dina Title Track Lyrics: Heegondhu Dina is a Title Track from an upcoming 2018 Kannada movie Heegondhu Dina, directed by Vikram Yoganand. V Vikas has written the screenplay. The film was produced by Chandrashekar under the banner Smart Screen Productions.  Heegondhu Dina features Sindhu Loknath, Praveen Tej, Guru Prasad, Mithra, Shobraj, Giri, Girija Lokesh, Balaji Manohar and others.
Divo is the music label of this movie. This song was composed by Abhilash Gupta with lyrics written by Ramakrishna Ranagatti.  Heegondhu Dina Title Track was rendered by Sinchan Dixit.
The leading actor of this movie Sindhu Lokanath was in Bangalore on 5-02-1987. She gratuated from St. Joseph's College of Arts & Science, Bangalore with a masters degree in Biotechnology. Her film career started in 2009 with her debut in Kannada film Parichaya. Some of her memorable movies includes Lifeu Ishtene, Drama, Yaare Koogadali, Love in Mandya, Mr. Airavata, Muppozhudhum Un Karpanaigal [Tamil] and others.
Actor Praveen Tej was basically from Shivamogga, Karnataka. He came to Bangalore to pursue is career in acting. He anchored some TV shows. He got is break in Kannada film industry through the 2016 Kannada film Simpallag Innondh Love story directed by Simple Suni. some of his noted Kannada films are Churikatte, 5th Generation, NH7 and others.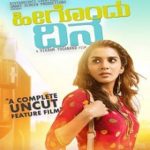 Heegondhu Dina Title Track
Movie: Heegondhu Dina [2017]
Music Label: Divo
Music: Abhilash Gupta
Lyrics: Ramakrishna Ranagatti
Singer: Sinchan Dixit
Check out the lyrics here..
Hinthirugi Hogalu Soochane
Mundake Saagalu Yochane
Haathoreda Aa Kaathurada
Aa Kanase Kaledide..aa..
Naa Thorede Naa Yellavanu
Seralu Kanasige..aaa..a
Heegondu Dinada Nadige..u
Heegondhu Dinada Sulige..u
Heegondu Dinada Pariye ..
Heegondu Dinava Thiliye..hehey..hey..
Yaake Ade Thade Yeshtu Illi Soochane
Howdu Ninne Neenu Keluvantha Yochane
Tharave Ee Tharave Kaaduva Kaduva Samaya
Swarave Ee Swarave Haadutha Koraguva Samaya
Manave Ee Manave Nodutha Maraguva Samaya
Sariye Nee Sariye Nillade Oduva Samaya
Yaake Heege Dooruththide Nanna
Samayaane Dooruththide
Heegeke Dooduththide Doorake Doorake
Nillu Nillu Nillu Nillu Yennutha…
Naa Thorede Naa Yellavanu Seralu Kanasige..
aaa…
Comments
comments