April 4, 2018
Hey Navile Song Lyrics
Hey Navile Lyrics Song Lyrics: Hey Navile Navile [Oh Navile] is a super hit song from the 1997 Kannada film Kalavida, written, directed and produced by V. Ravichandran under his home banner Sri Eshwari Productions. Kalavida features V. Ravichandran, Roja, Heera Rajagopal, Raghuvaran, Dolly Minhas, Umashree, Vaishali Kasaravalli, Ramesh Bhat, Shobhraj, Guru Dattand, B V Radha, Anjali, Shivaram, Lohithashwa and others. Jhankar Music holds the audio rights of this movie. This song was written and composed by Hamsalekha. Andagara Alimayya song was rendered by Singer S. P. Balasubrahmanyam.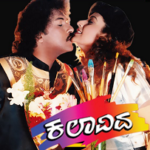 Hey Navile Lyrics
Movie: Kalavida [1997]
Music Label: Jhankar Music
Music: Hamsalekha
Lyrics: Hamsalekha
Singer: S. P. Balasubrahmanyam
Check out the lyrics here..
Hey Navile… Hennavile…
Hey Navile Navile Hennavile Hennavile
Baa Navile Navile Baa Navile Navile
Aa Soundarya Lokadinda Jaaride
Ninna Nodoke Nooru Kannu Saalade
Aa Soundarya Lokadinda Jaaride
Ninna Nodoke Nooru Kannu Saalade
Hey Navile… Hennavile…
Hey Navile Navile Hennavile Hennavile
Baa Navile Navile Baa Navile Navile
Soundarya Rekheya
Nooraru Shakheya
Soundarya Rekheya
Nooraru Shakheya
Aarambha Kelu Ellide.
Ellide…
Ee Anda Sampoorna Kaleyagide
Mataado Belura Shileyagide
Hennagide Hennavilagide
Hey Navile…
Hennavile…
Hey Navile Navile
Hennavile Hennavile
Baa Navile Navile
Baare Navile Navile
Aa Soundarya Lokadinda Jaaride
Ninna Nodoke Nooru Kannu Saalade
Not Clearly Audible
Neenilli Bandire
Hoonaguva Tandire
Neenilli Bandire
Hoonaguva Tandire
Nodalli Taare Naachide
Minchade
Aa Taare Enadarenayitu
Nee Doora Hogade Iddarayitu
Neenayitu
Innu Naanyitu
Hey Navile…
Hennavile…
Hey Navile Navile
Hennavile Hennavile
Baa Navile Navile
Ba Baare Navile Navile
Aa Soundarya Lokadinda Jaaride
Ninna Nodoke Nooru Kannu Saalade
Kalavida Songs Lyrics
Saavirake Obba Kalavida
Hey Navile
Andagara Alimayya
Prema Prema
Hoova Roja Hoova
Iniya Iniya
Ondu Bechhane
Comments
comments