October 19, 2017
Hoovondu Beku Ballige Lyrics | Pavana Ganga
Hoovondu Beku Ballige Lyrics | Pavana Ganga: Hoovondu Beku Ballige is a song from the 1977 Kannada film Pavana Ganga, directed by Y. R. Swamy and produced by C. Jayaram. It is based on the novel of the same name by Krishnamoorthy Puranik.
Pavana Ganga features Srinath, Aarathi, Ashok, Dwarakish, B. V. Radha, Balakrishna, Sampath and others. Saregama is the music label of this movie. This song was composed by Rajan-Nagendra with lyrics penned by Chi. Udaya Shankar.  Hoovondu Beku Ballige was rendered by S. Janaki.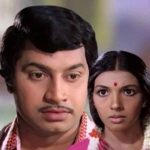 Hoovondu Beku Ballige Lyrics
Movie: Pavana Ganga [1977]
Music Label: Saregama
Music: Rajan-Nagendra
Lyrics: Chi. Udaya Shankar
Singer: S. Janaki
Check out the lyrics here..
Hoovondu Beku Ballige
Maguvondu Beku Hennige
Hoovondu Beku Ballige
Maguvondu Beku Hennige
Kandana Santoshave Thaayiya Sowbhagayavu
Baalina Anandavu
Hoovondu Beku Ballige
Maguvondu Beku Hennige
Bisilige Neralinanthe
Irulige Belakinanthe
Baalige Kangalanthe
Maguvina Preethiyabthe Aaa…
Kandana Thodalu Nudi
Jenina Hanigalanthe
Kopadi Aluvaaga
Jogula Haadidanthe
Sarasave Dina Anu Dina Hosa Thana
Hosa Thana Hosa Thana
Hoovondu Beku Ballige
Maguvondu Beku Hennige
Onagida Dandeyali Hasurele Mooduvude
Soragida Hrudayadali Santhasa Kaanuvude
Moodida Bayakegalu Mugiyalu Kanasinilai
Aaseyu Chiguruvude Harushavu Uliyuvude
Balalide Mana Anu Dina Anu Kshana
Anu Kshana Anu Kshana
Hoovondu Beku Ballige
Maguvondu Beku Hennige
Kandana Santoshave Thaayiya Sowbhagayavu
Baalina Anandavu
Pavana Ganga Song
Aakasha Deepavu Neenu
Modalane Dinave
Hoovondu Beku Ballige
Comments
comments