April 2, 2018
Ide Nadu Ide Bhaashe Song Lyrics
Ide Nadu Ide Bhaashe Song Lyrics: Ide Nadu Ide Bhaashe is a Song from the 1983 Kannada movie Thirugu Baana [Thirugubaana], directed by K. S. R. Dass and screenplay by H V Subba Rao. The film was produced by S Sangram Singh and S Jayaraj Singh under the banner Singh Brothers.
Thirugu Baana features Ambarish, Aarathi, Hema Choudary, Jayamala, Vajramuni, Dinesh, Rajanand, Master Arjun, B Hanumanthachar, K V Manjaiah, Lakshman, Indira, Mallika, Lalithamma, Shanthamma, Shantha, Hema, Sindhu, Shakthi and others.
This film was remake of the 1974 Hindi film Benaam. Sangeetha music was the music label of this movie. This song was composed by Sathyam with lyrics penned by R. N. Jayagopal. Ide Nadu Ide Bhaashe was rendered by S. P. Balasubrahmanyam.
This evergreen song became a integral part of Karnataka Rajyotsava celebration in Karanataka and Kannadigas. This song featured singer SPB on screen singing the song. Great song with great lyrics.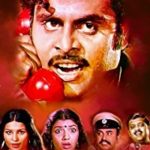 Ide Nadu Ide Bhaashe Lyrics
Movie: Thirugu Baana [1983]
Music: Sathyam
Lyrics: R. N. Jayagopal
Singer: S. P. Balasubrahmanyam
Music Label: Sangeetha
Check out the lyrics here..
Ide Nadu Ide Bhashe Endendu Nannadaagirali
Elle Irali Hege Irali Kannadave Namma Usiralli
Ide Naadu Ide Bhashe Endendu Nannadaagirali
Elle Irali Hege Irali Kannadave Namma Usiralli
Ide Naadu Ide Bhashe Endendu Nannadaagirali
Karunaadu Swargada Seeme Kaaveri Huttida Naadu
Kallalli Kaleyanu Kanda Beluru Shilpada Beedu
Basaveshvara Ranna Pampara Kavi Vaaniya Naadu
Ide Naadu Ide Bhashe Endendu Nannadaagirali
Chamundi Raksheyu Namage Gomatesha Kaavalu Illi
Shringeri Sharade Veene Rasa Thungeyaagide Illi
Vishva Khyathiya Vishweshwarayya Janisida Ee Naadu
Ide Naadu Ide Bhaashe Endendu Nannadaagirali
Elle Irali Hege Irali Kannadave Namma Usiralli
Elelu Janmave Barali Ee Mannali Naanu Huttuve
Enenu Kashtave Irali Sirigannadakaage Dudiyuve
Thanu Kannada Nudi Kannada Mana Kannadavaagirali
Ide Naadu Ide Bhaashe Endendu Nannaadagirali
Elle Irali Hege Irali Kannadave Namma Usiralli
Ide Naadu Ide Bhaashe Endendu Nannadagirali
Comments
comments