September 23, 2017
Iduvarege Badukiddanna Lyrics
Iduvarege Badukiddanna Lyrics: Iduvarege Badukiddanna is a song from an upcoming 2017 Kannada movie April Na Himabindu, written and directed by duo Shiv and Jagan. The movie star cast includes Dattanna, Baabu Hirannaiah, Sridhar, Chidanand, Sachin, Ganesh, Shwetha, Chandana, spandana and others. ReChord Audio is the music label of this movie. This song was composed by Bharath B J with lyrics penned by Yograj Bhat. Iduvarege Badukiddanna was rendered by Bharath B J.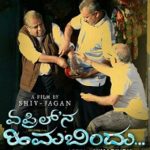 Iduvarege Badukiddanna Lyrics
Movie: April Na Himabindu [2017]
Music Label: ReChord Audio
Music: Bharath B J
Lyrics: Yograj Bhat
Singer: Bharath B J
Check out the lyrics here..
Iduverege Badukiddanna
Baduku Antha Anbodeno
Sariyaagi Namgu Goththilla
Aananda Annodakke
Address Eliihudo Eno
Hudukaata Naavu Bittilla
Banrappa Nagutha Baalona
Iro Naak Dina
Uthra Sigadiruva Prashnena
Hey Bithaakana
Namma Jeevna
Naavene Bitta Baana
Odogana Baa Sumne
Amikkondu Elgaana
Mansige Age aagalla
Olagide Kanasina Hindu
Illadara Hudukaatave
April Na Himabindu
April Na Himabindu Songs
Iduvarege Badukiddella
Avalinda Naavella
Ishtu Kaala
Iduvarege Badukiddanna
Save
Comments
comments