March 25, 2023
Indina Hindu Deshada Lyrics
Indina Hindu Deshada Lyrics: Indina Hindu Deshada is a Kannada song from the 1969 Kannada film 'Kappu Bilupu', directed by Puttanna Kanagal. Based on a novel of the same name by 'Aryamba Pattabhi'. The film was produced by Ravikumar under the banner Ravikumar Movies.
Kappu Bilupu [1969] Kannada movie features Kalpana, T. N. Balakrishna, Rajesh, Ramachandra Shastry, Maccheri, H V Subba Rao, Bharadwaj, Adavani Lakshmi, Indira, Rama, Bharani, Kanagal Prabhakar Shastry, Sudarshan, Sacchu, and others.
Cheluvina Kenneye Chinnada song lyrics were written by lyricist R. N. Jayagopal and the song was composed by R. Rathna. This song was sung by playback singer P. B. Srinivas.
Puttanna Kanagal himself remade the movie in Tamil as Irulum Oliyum and in Telugu as Iddaru Ammayilu.
Saregama is the music label of this film.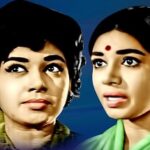 Indina Hindu Deshada Lyrics
Movie: Kappu Bilupu [1969]
Music: R. Rathna
Singer: P. B. Srinivas
Lyrics: R. N. Jayagopal
Audio On: Saregama
Check out 'Indina Hindu Deshada Lyrics' here..
Indina Hindu Deshada
Nava Yuvakare Nava Yuvathiyare
Yavudu Kappu Yavudu Bilupu
Yavudusathya Yavudu Mithya
Ariyade Nadedu Edavadiri Edavadiri
Hoo Hoo Hoo Hoo Edavadiri
Indina Hindu Deshada
Nava Yuvakare Nava Yuvathiyare
Om Om Om
Giri Shwanakpa Sarva Vidya Naama Eeshwara
Sarva Bhoothaanaam Brahma Vipade
Brahmanodipade Brahma
Shivoye Asthu Sadaa Shivoom
Aham Brahmasmi.. Aham Brahmasmi..
Aadiguru Shree Shankaraa
Bharathamaatheya Kuvara
Saarida Hindu Dharmada Saara
Aathana Bhodane Amara…
Aathana Naadu Dharmada Beedu
Indaayte Aneethi Goodu
||Indina Hindu Deshada
Navayuvakare Nava Yuvathiyare||
Hindu Desha Hindu Dharma
Hindu Desha Hindu Dharma
Bharathada Simhagale Jagrutharaagiri Endu
Veera Vaaniya Molagisida Swamy
Vivekananda Mundu
Nimmannu Nodi Marukade Koodi
Kanneera Karediha Indu
Mundina Hindu Deshada
Navayuvakare Nava Yuvathiyare
Jai Hind Jai Hind
Kelisade Kelisade Mannidu
Mididiha Kavithe
Paavana Ganga Jamunaa Hariva
Bharatha Bhoomiya Charithe
Adhunikatheya Birugaliyali
Aaride Jnanada Hanathe
Indina Hindu Deshada Nava Yuvakare
Nava Yuvathiyare
Yavudu Kappu
Yavudu Bilupu
Yavudu Sathya Yavudu Mithya
Ariyade Nadedu Edavadiri Edavadiri
Edavadiri Edavadiri |4|
---
Kappu Bilupu [1969] Movie Songs List
1. Amma Ninna Tholinalli
Singer: P. Susheela
Lyrics: R. N. Jayagopal
2. Ee Chandada Maneyalli
Singer: P. Susheela
Lyrics: R. N. Jayagopal
3. Bhale Brahmachari Nodu
Singer: L. R. Eswari
Lyrics: R. N. Jayagopal
4. Cheluvina Kenneye Chinnada
Singer: L. R. Eswari
Lyrics: R. N. Jayagopal
5. Indina Hindu Deshada
Singer: P. B. Srinivas
Lyrics: R. N. Jayagopal
6. Ide Roopa Ade Nota
Singer: P. B. Srinivas
Lyrics: R. N. Jayagopal
Comments
comments