April 4, 2018
Iniya Iniya Song Lyrics
Iniya Iniya Song Lyrics: Iniya Iniya is a song from the 1997 Kannada film Kalavida, written, directed and produced by V. Ravichandran under his home banner Sri Eshwari Productions. Kalavida features V. Ravichandran, Roja, Heera Rajagopal, Raghuvaran, Dolly Minhas, Umashree, Vaishali Kasaravalli, Ramesh Bhat, Shobhraj, Guru Dattand, B V Radha, Anjali, Shivaram, Lohithashwa and others. Jhankar Music holds the audio rights of this movie. This song was written and composed by Hamsalekha. Iniya Iniya song was rendered by Singers Mano and Swarnalatha.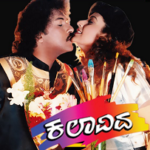 Iniya Iniya Lyrics
Movie: Kalavida [1997]
Music Label: Jhankar Music
Music: Hamsalekha
Lyrics: Hamsalekha
Singers: Mano, Swarnalatha
Check out the lyrics here..
Iniya Iniya Iniya
Iniya Iniya Iniya
Olavina Oleidu Hrudayada Aase Idu
Geleya Geleya Geleya
Hrudayada Hoovu Idu Araluva Kaalavidu
Hey I Love You Hey I Love You
Hey I Love You I Live For You
I Will Die For You
Neene Minchu Neene Gududu
Neenaagu Kovi Kuncha
I Live For You I Breath For You
I Live For You I Breath For You
I Will Die For You
Preetisuva Preetisuva Pandyadali Indu Ninde Prathama Sthana
Sadisuva Hadioyali Indu Ninde Sthana Maana
Ninnaaseya Naa Pooraisuve Ninnaneya Naa Kapaduve
Iniya Iniya Iniya
Olavina Oleidu Hrudayada Aase Idu
Hey I Love You I Live For You
I Will Die For You
Saradara Saradara Sukumara Neenu Ella Gellabeku
Kalegara Kalegara Ninna Kale Nillabeku
Horaduve Naaa Ee Pretige Sharanaguve Naa Ee Snehake
Olave Neenu Bareda Olavina Oleidu Badkina Haadu Idu
Hey I Love You Hey I Love You
Hey I Love You I Live For
I Will Die For You
Neene Minchu Neene Gudugu
Neenaagu Kovi Kuncha
I Live For I Breath For You
I Live For You I Breath For You
I Will Die For You
Kalavida Songs Lyrics
Saavirake Obba Kalavida
Hey Navile
Andagara Alimayya
Prema Prema
Hoova Roja Hoova
Iniya Iniya
Ondu Bechhane
Comments
comments