July 1, 2022
Janumada Jodi Neenu Lyrics
Janumada Jodi Neenu Lyrics: Janumada Jodi Neenu is a super hit song from the 1996 Kannada film 'Janumada Jodi', directed by T. S. Nagabharana, based on a Gujarathi novel 'Malela Jiva' by Pannalal Patel. The film was produced by Smt Parvathamma Rajkumar under the banner Vaishnavi Combines.
Janumada Jodi features Shivarajkumar, Shilpa, Enagi Balappa, Amulya, Pavithra Lokesh, Rajeev, Ashok, Mukyamanthri Chandru, Karibasavaiah, Krishne Gowda, Honnavalli Krishna, Mandya Ramesh, Prakash Shenoy Radha Ramachandra, Jyothi Gurucharan, Shani Mahadevappa and others.
Janumada Jodi Neenu Song Lyrics were written by Doddarange Gowda and the song was composed by music director V. Manohar. This song was rendered by playback singers Rajesh Krishnan and Manjula Gururaj.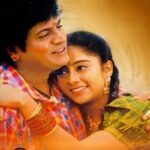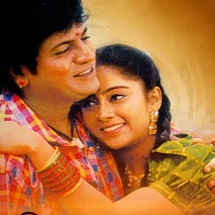 Janumada Jodi Neenu Lyrics
Movie: Janumada Jodi [1996]
Music: V. Manohar
Lyrics: Doddarange Gowda
Singers: Rajesh Krishnan, Manjula Gururaj
Music Label: Akash Audio
Check out 'Janumada Jodi Neenu Song Lyrics' here..
Janumada Jodi Neenu Kanaka Kanakaa
Hudugaana Praana Neenu Koneya Tanaka
Suvvisuvvaale Baale
Kusuma Sirigandha Maale
Maale Maale Maale Malle Hoo Maale
Janumada Jodi Neene Praana Padaka
Usiraade Neenu Nanna Koneya Tanaka
Doreyange Bande Nee Janajaatre Naduve
Kannalle Todiside Nee Muddina Odave
Odavetodade Nee Cehluvera Cheluve
Edetumbikollalu Ninna Padede
Ninnapreeti Chilumeye Endendigu
Geluvutaruva Varave
Aduyaava Janumadalo Aagaite
Nanaguninagu Maduve
Ninajodi Maadida Aa Devage
Kaiyamugive Mugive
Janumada Jodi Neenu Kanaka Kanakaa
Hudugaana Praana Neenu Koneya Tanaka
Modalaneya Notadaage Selede Nee Manasa
Shivaraatri Tande Nee Divasa Divasa
Nangoo Hangaagaite Kelayya Arasa
Olaolage Haadaite Hrudaya Sarasa
Nelamugilu Seridaru Beraagadu Namma Baala Kalasha
Odalaalacandadali Helaite Preeti Katheya Sogasa
Namma Baduka Harakeya Pooraisalu Dinavu Harusha Harusha
Janumada Jodi Neene Praana Padaka
Usiraade Neenu Nanna Koneya Tanaka
Iduyaava Daiva Leele Manasaaytu Ninna Mele
Mele Mele Mele Teli Hode Naa
Janumada Jodi [1996] Songs List
Mani Mani Mani Mani
Lyrics: Baraguru Ramachandrappa
Singers: Shivarajkumar, Manjula Gururaj
Janumada Jodi Neenu
Lyrics: Doddarange Gowda
Singers: Rajesh Krishnan, Manjula Gururaj
Kolumande Janguma Devaru
Lyrics: Doddarange Gowda
Singer: L. N. Shastri
Aarathi Annammange
Lyrics: Doddarange Gowda
Singers: Rajesh Krishnan, Manjula Gururaj
Ivanyara Maganu
Lyrics: V. Manohar
Singers: Rajesh Krishnan, Manjula Gururaj
Dehavendare O Manuja
Lyrics: V. Manohar
Singer: Rajkumar
Januma Jodi Aadaru
Lyrics: V. Manohar
Singer: Rajkumar
O Oora Dyavare
Lyrics: V. Manohar
Singer: Manjula Gururaj
Seere Seere Seere
Lyrics: Sriranga
Singer: Sangeetha Katti
Comments
comments